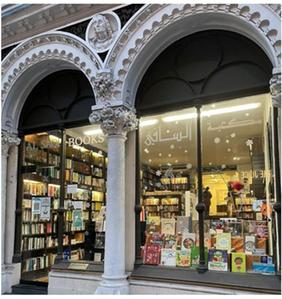 Al Saqi Books in London, Europe's largest specialist bookseller for Middle Eastern books, "has been forced to close because of the hike in prices of Arabic-language books and because Brexit has been 'detrimental' to its business," the Guardian reported, adding that the store will shutter December 31.
Founded in 1978 by Andre and Salwa Gaspard and the late Mai Ghoussoub, three friends who had settled in London from war-torn Lebanon, Al Saqi Books sells works on the Middle East and north Africa in English, and on all subjects in Arabic. In a statement, the shop described itself as a "leading light not only for Middle Eastern expatriates, but for visitors from across the region keen to obtain works banned in their own countries."
Salwa Gaspard, the bookshop's director, said it was a "difficult decision that had to be made because of recent economic challenges, such as the sharp increases in Arabic-language book prices," adding that the bookshop used to source and buy its stock from Lebanon, "but the economic situation there has made this all but impossible.... Publishers have had to raise them to stay in business, as paper and shipping have effectively doubled in cost. Another factor is the exchange rate, which is no longer favorable to us--we used to pay in U.S. dollars. Then, of course, there is the rise in the [U.K.] cost of living. The costs associated with operating the bookshop have become too high."
She added that Brexit was also a factor: "We used to sell many books to the EU, which is no longer feasible because of duties and such. Arabic libraries in the U.K.--another important part of our business--are buying far fewer books. And we have lost a large part of our customer base as Arab visitors from overseas are not visiting in the same numbers. There is a generational issue there, as well: younger people do not stop by as often as their parents did."
The publishing arms, Saqi Books and Dar al Saqi, will remain open, operating from new premises in west London. Lynn Gaspard, publisher of Saqi Books, told the Bookseller: "This will be sad news for many in our community as the bookshop has been a home for the Arab diaspora. To me, Al Saqi is much more than just a bookshop. I have grown up at Saqi: my sister and I spent hours playing among the books. It has been a privilege to run Saqi Books and to work alongside my parents. We will miss operating alongside the bookshop, but look forward to the next chapter in Saqi's history.... Saqi and Dar al Saqi share many loyal readers with the bookshop, and we are excited at the prospect of bringing the best in new and classic writing from the Arab world to audiences in the U.K. and beyond for years to come."
---
Canadian publisher and distributor Thomas Allen & Son, which was founded in 1916 and is the oldest, family-owned and -operated book distributor in Canada, will be closing at the end of March 2023. The decision, which has been in the planning stages for a number of months, was announced by company president and CEO Jim Allen. Effective April 2023, Firefly Books Ltd. will be the Canadian distributor of many of the publishing companies that Thomas Allen & Son currently represents in the country.
Noting that the closure is in large measure the result of ongoing consolidation in the international book publishing industry and the resulting re-organization of traditional book distribution practices in Canada, Allen said that in 2021, after making the decision to close the company, he met with Firefly Books president Lionel Koffler and presented him with an opportunity that would also benefit the staff of Thomas Allen & Son.
Workman Publishing's books and calendars represented a significant portion of Thomas Allen & Son's annual sales. The 52-year relationship with Workman will end as of March 31, 2023, and is not transferable. In the future, shipments to Canadian customers will be made directly from a Hachette warehouse in Indiana.
"For over 100 years, Thomas Allen & Son has established long-standing agreements with major American publishing firms," said Allen. "The success of the company as a book distributor was built on these close relationships, which in the beginning were made with a hand shake between Allen family members and the principals of these American firms. I would like to express my gratitude to all of our valued customers who have been so supportive over the years. Our company has flourished for over a century thanks to your loyalty and our business relationships."
Koffler added: "Firefly Books looks forward to continuing to build on these strong relationships with personal attention that will benefit booksellers and their valued customers." --Robert Gray