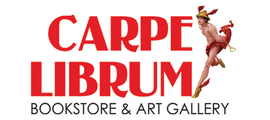 Melissa Eisenmeier, owner of Carpe Librum Books and Art Gallery, has launched a crowdfunding campaign to help her buy a building in Baltimore, Md.
Eisenmeier founded her store, which sells new and used titles across all genres, in 2016. After a few years as an online store, she signed a lease for a bricks-and-mortar space that opened in late January 2020. For the last few months, however, Eisenmeier has mainly been selling books online again, in part because of myriad plumbing problems at the bricks-and-mortar space.
She is looking to buy a 2,000-square-foot building at 8604 Harford Road. It would be larger than the previous location, Eisenmeier noted, and the space has a little stage that "would be great for readings, concerts and other events."