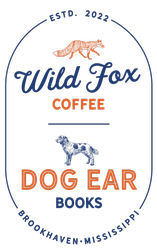 A bookstore and coffee shop called Dog Ear Books & Wild Fox Coffee opened in a limited capacity late last month in Brookhaven, Miss., the Daily Leader reported.
Located at 512 West Monticello St. in a renovated house, the bookstore sells new books for all ages and across all genres, along with high-quality art supplies and other nonbook items like journals, stationery, greeting cards and pens. Owners Dana and Jason Matte are still finishing up work on the building's second floor, which will be home to a large children's section. They plan to host book club meetings, story-time sessions and author readings, and eventually turn the front porch into a seating area.
"We wanted a bookstore and felt Brookhaven needed one," Dana Matte told the Daily Leader, adding that they felt the addition of a coffee shop would help support the business. It was her dream to open a business of her own someday. For the time being, both have kept their day jobs--she is a nurse practitioner and her husband is a truck driver--and have hired employees to run the bookstore and coffee shop day-to-day.
The cafe side of the business sells coffee drinks inspired by the personality and appearance of the dogs in the Mattes' lives. For example, the Roscoe is named after their corgi and has toasted marshmallow, pecan and caramel flavors, while the Newman has salted caramel and white chocolate. All of the coffee beans are sourced from a roaster in Mississippi. They plan to add some food items like biscuits.
"We want to be a fixture in the community and be a place people could come by and hangout," Jason Matte said.