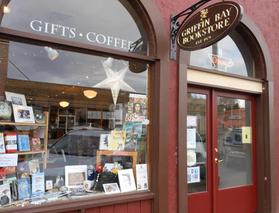 Mae Cannon has purchased Griffin Bay Bookstore in Friday Harbor, Wash., from previous owner Laura Norris and officially took over this week.
Norris ran the 43-year-old independent bookstore on San Juan Island for 16 years and was its third owner. In a statement announcing the change, Norris explained that she is "leaving Griffin Bay Bookstore steeped in the confidence that its future is secure in the hands of new owner Mae Cannon. She is a devoted bibliophile with a wide breadth of talents and expertise which will suit the bookstore and reading community well.
"It has been my honor to serve the island community which I grew up in and love so much for these past 16 years, but I know the time has come to welcome in the next generation and I trust that all of you will join me in supporting Griffin Bay Bookstore's new owner, Mae."
Cannon, a book lover who has had a lifelong dream of opening a bookstore, moved to San Juan Island several years ago with her husband and has "loved Griffin Bay Bookstore" since her first visit. Her first day at the bookstore was December 6.
"I am excited to keep the tradition of Griffin Bay Bookstore strong," Cannon said. "My desire is for the store to continue to be a place where all people feel welcome and can come to learn about the treasures of our island and beyond. I look forward to being involved in the island community as well as being a part of Friday Harbor's business community. I salute Laura Norris for her years of running the bookstore, and I am grateful to learn from her expertise as I embark on this new adventure."
Many of the bookstore's staff members will stay on and "business will continue uninterrupted as usual. Rest assured, all gift certificates will be honored and special orders fulfilled."