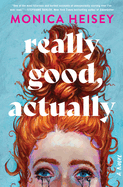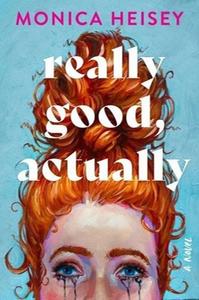 Screenwriter and comedian Monica Heisey (Baroness von Sketch Show) finds the funny in millennial divorce misery in her debut novel, Really Good, Actually. When 28-year-old research assistant Maggie suggests to her partner of 10 years and husband of only 608 days that maybe they should get a divorce, she doesn't expect him to agree. Soon he's gone with half their stuff and their cat, and Maggie is romantically alone for the first time in her adult life.
Conveniently forgetting that she's the one who suggested the divorce, Maggie paints herself as a victim: Jon is uncommunicative, Jon is cold, Jon took the cat, Jon is unwilling to go to a therapy session for closure. Maggie's friends gently suggest she needs therapy herself, but they're wrong. She's doing fine: really good, actually.
Heisey shares some of Maggie's attempts at a life reset in the form of lists: things Maggie impulse-buys, Google searches, dates she goes on, hobbies she tries to pick up and more. She goes through cycles of depressive wallowing and manic activity, insisting all along that she's managing as well or better than anyone else in her position. Spiraling further into herself and out of control, Maggie simultaneously rejects her friends' pity and craves their validation. When they finally give up, she turns to the abyss of social media, developing a dependency that will feel familiar to anyone who feels an overwhelming compulsion to check their phone every three minutes.
Really Good, Actually isn't all misery or jokes, though. Hidden among the body dysmorphia and self-improvement montages Heisey drops the kind of lines that require a pause: "It was hard to learn traits I'd considered mine alone had been forged with or borrowed wholesale from someone else." Moments of genuine pain, joy or self-interrogation combine with dark humor to make a novel that manages to remain engaging even as Maggie slides to an inevitable rock bottom. Maggie is often difficult to like in her privileged misery, but Heisey makes her empathetic enough that even when she's ruining every relationship in her life and making terrible choices, readers will still hope she can turn it around.
Really Good, Actually is a coming-of-age novel for adults trying to connect in the age of apps. Fans of My Year of Rest and Relaxation, Queenie or shows like HBO's Girls will want to give it a read. --Suzanne Krohn, librarian and freelance reviewer
Shelf Talker: A young divorcée stumbles through modern dating, adult friendship, mental health issues and self-discovery in this darkly funny novel about spinning out before starting over.