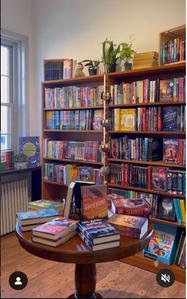 Birch Tree Bookstore held a ribbon cutting and grand opening celebration November 26 in its new standalone space at 11 West Market Street in Leesburg, Va. Owner Leah Fallon and her team moved into the new storefront on November 18 and celebrated with the community on Indies First/Small Business Saturday.
"We found our home," said Fallon. "I really wanted to make a space for the community and a unique space with ways to bring all kinds of people here and make them feel at home when they walk in."
The general-interest bookstore sells new titles for all ages along with wooden toys, puzzles and games, and shares its new space with the plant store EcoAmi Plants.
Birch Tree Bookstore made its debut as a pop-up shop in 2021, and immediately prior to moving to the new location shared a space with the cafe Cowbell Kitchen.
In an Instagram post announcing the move, Fallon said she and her team were grateful "for the support of our incredible community and the growth we've experienced" in that space.