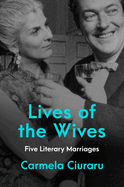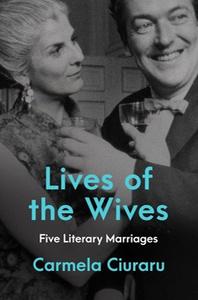 Even a generally rosy marriage has its thorns; "Toss in male privilege, ruthless ambition, narcissism, misogyny, infidelity, alcoholism, and a mood disorder or two," writes Carmela Ciuraru in Lives of the Wives: Five Literary Marriages, "and it's easy to understand why the marriages of so many famous writers have been stormy, short-lived, and mutually destructive." Lives of the Wives offers scintillating, no-prisoners-taking portraits of five such marriages. Collectively, these profiles may inspire readers to turn to their honeys to say, "Thanks for being you."
Ciuraru (Nom de Plume: A (Secret) History of Pseudonyms) includes among her subjects--all of whom reached adulthood in the early to mid-20th century--the same-sex partners Radclyffe Hall, a writer, and Una Troubridge, a sculptor and translator. Hall and Troubridge are unusual among the featured couples in that they were still (basically) together at the time of one partner's death. Being gay didn't stop them from following a sexist script: the masculine half (Hall went by the name John and dressed in men's suits) left domestic matters to the other partner--to the detriment of Troubridge's career.
The Italian novelists Elsa Morante and Alberto Moravia may have never legally divorced, but their respective successes corresponded with the erosion of their marriage. Writer Elaine Dundy and critic Kenneth Tynan were another pair of incompatible writers, but, to readers' certain relief, they do ultimately divorce following years of physical, drunken and clothing-optional fights and a stratospheric level of sacrifice from Dundy in effort to support her husband's aspirations.
Novelist Elizabeth Jane Howard also doted on a writer spouse--hers was Kingsley Amis--and eventually came to the realization that "by serving as a model wife, she had not only put herself at a crippling disadvantage as a writer, but lost the interest of her husband." Rounding out the trio of overdependent men is children's literature's Roald Dahl. His view of his movie star wife Patricia Neal's artistic hunger is appalling--"I wish I could feed her some magic pills that would rid her of this fierce driving ambition that all actresses seem to have," Dahl groused in a letter--but his attitude was hardly out of alignment with his time.
Part cautionary tale and occasional horror show, Lives of the Wives is fundamentally a shimmering love story--that is, a story of love for the creative life, if not always for the person doing the creating. --Nell Beram, author and freelance writer
Shelf Talker: Carmela Ciuraru offers scintillating, no-prisoners-taking portraits of five marriages in which at least one partner was a well-known writer.