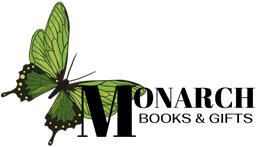 Monarch Books & Gifts is the new name for the Green Door Book Store & Gift Shoppe, the Overland Park, Kan., independent bookstore owned by Christin Young. The adoption of a new name and branding cements the store "as a local indie fixture with a commitment to the Kansas City and surrounding communities," Monarch Books & Gifts said.
The store added that "with cozy seating, a children's area and the smell of coffee in the air, Monarch Books & Gifts is home to a zen atmosphere, shelves and shelves of curated books, and a selection of unique and funny gifts, many sourced from local makers! The landscape of Kansas City's independent bookstore scene is in flux and Monarch Books & Gifts' owner, Christin Young, is hard at work, continuing to provide above and beyond customer service, access to any title her customers can imagine, and unique gifts."
After founding the store in 2019, Young had to move because of zoning problems and then Covid-19 hit. Nonetheless, Young said, "I see it as getting the hard lessons out of the way. I don't see obstacles, but opportunities and for me there is no plan b--I am all in and dedicated to giving the community a much needed indie bookstore! I am passionate about books and I love making people laugh!"
Monarch hosts book clubs and author events and has partnered with local libraries and schools. With many sidelines at the store, "Customers can always find a little something for everyone, making Monarch Books & Gifts a go-to for special gifts for that special someone or to treat yourself."