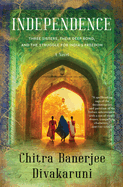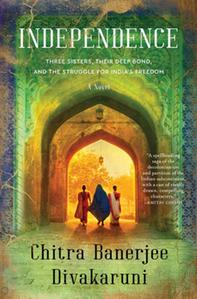 Chitra Banerjee Divakaruni explores the explosive effects of the Partition of India and its ramifications for one close-knit family of women in Independence, her stunning 13th novel for adults. Divakaruni (The Last Queen) focuses her story on the Hindu Ganguly family, who have long lived at peace in the quiet village of Ranipur with both Hindu and Muslim neighbors. But when the family--mother Bina, father Nabakumar and their three grown daughters--visit Calcutta in August 1946, their peaceful world is violently upended. Nabakumar, a doctor dedicated to serving indigent patients no matter their religion, is caught in the crossfire of the riots of Direct Action Day, and his death has immediate emotional and practical consequences for his family.
The narrative unfolds in alternating chapters, switching between the perspective of the three Ganguly daughters: eldest daughter Deepa, who falls in love with Raza, a young Muslim man; overlooked middle child Jamini, who swings between duty to her family and resentment at never being chosen; and Priya, the youngest, who burns with ambition to be a doctor like her father. Their choices in the wake of Nabakumar's death, including Deepa's love affair and Priya's determination to attend medical school, are shaped not only by their grief and newfound poverty but by the political turmoil in their nation. In wise, thoughtful prose, Divakaruni shows the chaos that results as India is divided by arbitrary borders, and citizens are forced to choose sides.
As the daughters grapple with their father's death, their neighbor Somnath, a local landowner, and his son Amit--Priya's longtime best friend--do their best to help the family. But they, too, are affected by the looming partition of their homeland, and even they cannot help when Deepa disappears to build a new life with Raza. Although Amit loves Priya, he grows impatient at her plans to attend medical school in the U.S.; her decision will permanently affect their relationship. Jamini, stuck at home tending to their mother, eventually takes matters into her own hands with unexpected consequences.
Divakaruni skillfully moves from her focus mainly on her characters' daily lives to zoom out and comment on widespread violence and unrest in the months before and after Partition. Gandhi and other leaders, both Indian and British, are distant but important figures, as is female leader Sarojini Naidu, an activist and author whom Priya longs to meet. Through Deepa's new life with Raza, Divakaruni also gives insight into the experience of Muslims in India during Partition, and the complications--and possibilities--of reaching across religious lines.
Lyrical and richly detailed, Independence explores the implications of its title not only for a country, but for the young women who must learn to deal with a perilous, exciting new world. --Katie Noah Gibson, blogger at Cakes, Tea and Dreams
Shelf Talker: Chitra Banerjee Divakaruni's stunning 13th novel explores the experiences of one Indian family during Partition in 1947.