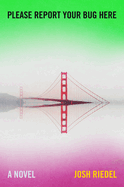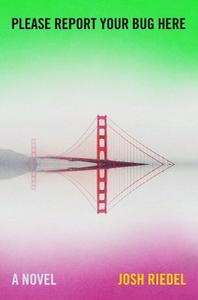 Josh Riedel's inventive debut novel launches readers into a world of tech startups eerily reflective of the digital media era that exercises outsized influence on what people do and how they think. Set in San Francisco, Please Report Your Bug Here opens with a note from former DateDate app employee Ethan Block, who swears his story is "not imagined, I promise you that--at least not to me. All that's changed are the names. Everything else is true." From there, Ethan traces the shifting tech landscape from the dating app's startup days, the bug that sends users temporarily into an alternative world, the acquisition of DateDate by the Corporation, and the rest of their looping and unraveling story.
Riedel writes here from experience, drawing upon his early role at Instagram (before and after its acquisition by Facebook) and managing to maintain a critical distance within that familiarity. The places, the details of conversations and all the related gear (the Chemex, the fixie, the Patagonia vest) register as authentic even as they have been elevated and distorted by the collective gaze leveled on Silicon Valley. And if another close look at a social media startup were all this novel were about, it might not warrant much attention. Thankfully, that's not all Riedel is up to.
The real work being undertaken here is an exploration of authenticity and identity and art in the face of (or perhaps in the wake of?) digital media. Unlike similar apps, DateDate creates unusual friction in the user experience, requiring answers to hundreds of questions about themselves before their top "matches" are revealed, a practice Ethan's friend and colleague Noma challenges: "I could answer a million questions on DateDate and you still wouldn't know who I am. Nobody would. That's the point: we don't know people, we get to know them. We're always in the process of getting to know each other. It never ends." Similarly, the book pushes readers to see the ways both art and technology construct and disrupt reality, forcing an examination of every experience, an insistence that humans are always in the process of discovering what is true. These more abstract and infinitely more interesting questions are the heart of Please Report Your Bug Here, and readers will find much to think on as they are compelled to find out what happens next. --Sara Beth West, freelance reviewer and librarian
Shelf Talker: Josh Riedel's inventive debut launches readers into a world of tech startups and media apps while also tackling art and reality and the possibility of portals to alternative worlds.