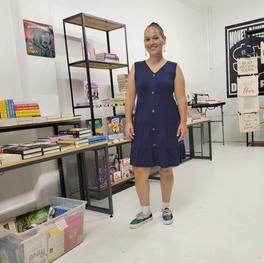 Tara Torres
Book Haven Books, a new and used bookstore with the mission of amplifying "diverse stories and authors from marginalized communities," is aiming for a bricks-and-mortar store after debuting as an online bookstore earlier this year.
Per the Hudson Reporter, owner Tara Torres launched the online store in January 2022 with an initial inventory consisting mainly of used adult fiction. Over the past year, as she's grown the store, held pop-up appearances in Union City, N.J., and connected with more of the community, she's added new titles for all ages.
Torres noted that even as a life-long reader, she did not "read a book where I saw myself represented on the page until I was in my 30s." When she started buying books for her children she began to realize just how stark the gap in representation was, and it was Jenny Colgan's The Bookshop on the Corner that gave her the push to start selling books on her own.
Eventually Torres hopes to open a bricks-and-mortar store "where we can build a community connected by books, culture and shared ideas."