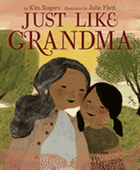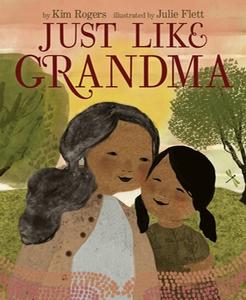 Wichita and Affiliated Tribes author Kim Rogers's first picture book, Just Like Grandma, beautifully portrays a supportive, inspiring grandparent-grandchild relationship. Joy-suffused art by Swampy Cree and Red River Métis illustrator Julie Flett (We All Play) accompanies Rogers's accessible free verse.
"Becca watches/ Grandma bead and bead/ buckskin moccasins"; Grandma passes her the needle when she asks to try. The Indigenous child and woman sit on the steps of their gray house and bead until "Grandpa calls them in for corn soup." On the next page, Becca sees Grandma dancing in the yard "like the most beautiful butterfly" and asks to join her. They dance amid a crowd of red and pink butterflies with their hair flying and skirts twirling. When Grandma paints a colorful sunrise, Becca says, "Let me try." Grandma teaches her brushstrokes and "together they paint the most spectacular sunrise/ anyone has ever painted." The refrain "Becca wants to be/ just like Grandma" repeats each time she sees her role model practicing a different skill. Meanwhile, Grandpa supports their adventures by whipping up nourishing meals in the kitchen and at the powwow.
Rogers brilliantly reverses the role model narrative when Grandma spots Becca practicing for basketball tryouts. Now "Grandma wants to be/ just like Becca," and Becca teaches Grandma the plays she's been practicing. After Becca makes the team, she and Grandma are shown laughing over pizza with Grandpa. Back on the porch, Becca looks at a book of drawings that features a Fancy Shawl dancer among a pattern of beaded flowers. The girl happily reflects that she "is just like Grandma./ Beading,/ dancing,/ painting,/ winning." Grandma joins Becca and they sit together covered by one shawl in front of a glowing sun; Rogers completes the circle by telling readers "Grandma knows that/ she is just like Becca."
Rogers affords children their rightful place as both legacy and leaders in this cyclical love letter to family and tradition. The narrative poem mirrors Grandma and Becca, and sings with the sense of comfort and belonging that can come from family. Flett's collage-like pastel, pencil and digital illustrations capture a gorgeous sense of movement as shawl fringe swishes, skirts swirl and Grandma's hair blows in the wind. The characters radiate joy in their activities and companionship. This affirming, sunlit story is equally accessible to families with grandparents as primary or secondary caregivers and celebrates the richness of Indigenous life. --Jaclyn Fulwood, youth experience manager, Dayton Metro Library
Shelf Talker: This joyful picture book follows an Indigenous child as she works at emulating her grandmother, only to learn in a heartwarming twist that her grandmother looks up to her, too.