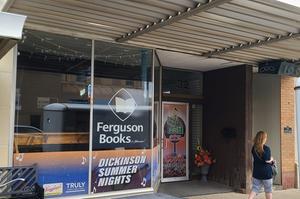 Ferguson Books & More held a soft opening and ribbon cutting last weekend for its fourth store, in Dickinson, N.Dak., the Dickinson Press reported. The company also has stores in West Fargo, Grand Forks and Bismarck, and offers pop-up book sales throughout the Dakotas, Minnesota and occasionally in Montana.
The new location was previously home to the Odd Fellows Lodge Bar, but development of the Dickinson Town Square enabled the group to move its bar events and lease the space to owner Dane Ferguson.
Ferguson Books is a regional chain started by the owner and his brother Taylor in 2010, during an economic recession, the Press noted. Dane Ferguson said there had been a public outcry in Grand Forks, which lost multiple chain bookstores: "I was like, 'Well I guess I'm foolish enough to start my own business at 24. So we'll give it a shot,' " He now runs the operation with help from his wife, Elizabeth, and business partner Roger Sutton.
Ferguson observed that he remains focused on connecting customers with the books they love: "We've made a lot of mistakes along the way.... We just try to persevere through it, keep a growth mindset and figuring out, you know, this is what communities want. We took a bet back in 2010, when everyone kind of wrote us off like Blockbuster because media was being streamed and consumed differently. But reading a book on a printed page is a totally different experience than reading something digitally on your phone or tablet. And we knew that."
Ferguson added that books are a family passion: "My wife and I, one of our pastimes is browsing for books. Like I've collected books my whole life. I'm definitely not as well read as my staff, which makes us a strong company because they're, you know, flying through books left and right, while I'm flying down the highway, trying to get things going and taking care of my four boys."