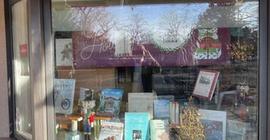 Earlier this month, rock-wielding vandals broke the large plate glass window at Inkberry Books, Niwot, Colo., prompting the bookseller to launch a GoFundMe campaign to replace it. "We just learned that it will take 8-12 weeks to replace," Inkberry wrote. "Our window will be covered with plywood throughout the holiday season. Unfortunately, our business insurance will not cover the replacement cost. Please know that we ARE open and we hope you will consider supporting us by shopping local this holiday season. Any funds you can contribute to help with the replacement cost of the window are sincerely appreciated."
Another Niwot indie bookstore, the Wandering Jellyfish Bookshop, helped spread the word on social media, posting on its Facebook page: "Dear Wanders, Please consider donating to help our friends at our brother bookstore here in Niwot Colorado, Inkberry Books. Recently their window was smashed and they lost business due to the fact that they looked closed. They need to replace their window and their lost revenue. This was a truly terrible and senseless act, and it's especially harmful to a small retail business during the holiday season when most retail businesses are counting on revenue from holiday shopping. Inkberry is a staple in this town, a wonderful literary sanctuary for book lovers of all ilk. Please help if you can."
The good news for the holiday season is that Inkberry has exceeded its $1,500 fundraising goal.