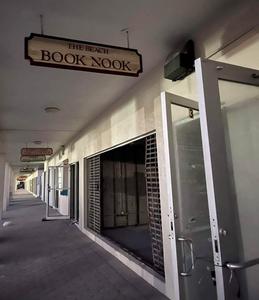 Repairs underway at Annette's Book Nook.
Some two and a half months after Hurricane Ian devastated southwest Florida, recovery continues at Annette's Book Nook in Fort Myers Beach, Fla., with the help of author and community donations, Naples Daily News reported.
The hurricane ruined not only all of the books in the store but also everything owner Annette Stillson had in storage at a nearby location, and all of the store's shelves and fixtures, save for a single small bookshelf, were also wrecked.
Florida authors, community members and readers throughout the country have sent boxes of new and used books to Stillson, and a GoFundMe campaign has so far raised $3,360. She plans to use the money from the crowdfunding campaign to pay for the first few months of rent when the store reopens and to replenish her stock of nonbook items like puzzles, toys and beach-themed gifts.
"It's just overwhelming," Stillson said of the community response. She recalled that when she first saw the damage after the hurricane passed, she assumed it would be the end of the bookstore. "Thank you is not enough of a word to express the appreciation and gratitude."
The bookstore is located in the Santini Marina Plaza, which was heavily damaged by the hurricane and is undergoing reconstruction. Stillson told the Daily News that it should be open again by next fall.