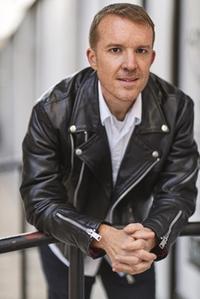 photo: Daniel Corey
Stephen Spotswood is a playwright, journalist and educator. As a journalist, he has spent much of the last 20 years writing about the aftermath of the wars in Iraq and Afghanistan and the struggles of wounded veterans. He is the creator of the Pentecost and Parker Mystery series, the third installment of which, Secrets Typed in Blood (Doubleday), finds the detectives hot on the trail of a serial killer whose murders are stranger than fiction.
Handsell readers your book in 25 words or less:
A hardboiled, queer, serial-killer whodunit set in 1947 New York City, featuring the world's most brilliant detective and her circus-trained right-hand woman.
On your nightstand now:
Fairy Tale by Stephen King. I've been reading his books since I was old enough to lift them. After mysteries, he's my number one comfort food. That I find horror comforting probably says a lot about how I grew up. Exactly what, I don't dare guess.
Favorite book when you were a child:
I don't know if I had a single fave, but I worked my way through the entire Hardy Boys and Nancy Drew series too many times to count.
Your top five authors:
My answer would never be the same minute-to-minute. So, here's five authors I've read this year that I can't wait to get more of: Jane Pek (The Verifiers); Rosalie Knecht (Vera Kelly Lost and Found); Mick Herron (Slow Horses); Gu Byeong-mo (The Old Woman with the Knife); Attica Locke (Heaven, My Home).
Book you've faked reading:
As a child, much of the Bible. At least the boring bits.
Book you're an evangelist for:
Gideon the Ninth by Tamsyn Muir. A queer, necromantic space opera that's also a locked-room murder mystery. Just finished the third in the series and, good lord, does she know how to write some beautiful, bloody gut punches.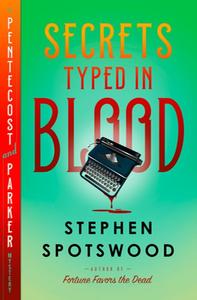 Book you've bought for the cover:
Caitlín Kiernan's Threshold (the first edition). When I look at it now, it is not a particularly striking cover. But something about it made me pick it up and buy it, knowing nothing about it or the author. This started a 20-year love affair with Kiernan's lush mix of Southern gothic and cosmic horror.
Book you hid from your parents:
My parents were very religious, but they were also big readers. So, as long as the cover wasn't objectionable (translation: sexy), I was free to read anything I wanted. But things like the Dungeons and Dragons Players Handbook (second edition) had to be tucked away or risk getting tossed. That fourth season of Stranger Things wasn't joking.
Book that changed your life:
Some Buried Caesar by Rex Stout. If I hadn't come across it while I was cleaning and randomly decided to reread it, I would never have arrived at the idea for the Pentecost and Parker series.
Favorite line from a book:
"Is Death important? No. Everything that happens before Death is what counts." --Ray Bradbury, Something Wicked this Way Comes
Five books you'll never part with:
Death Is a Lonely Business by Ray Bradbury (a signed copy!).
Aloud: Voices from the Nuyorican Poets Cafe, edited by Miguel Algarin and Bob Holman.
Dalva by Jim Harrison.
A Walk in the Woods by Bill Bryson (the abridged audiobook and, yes, I hear what you're saying about abridged, but this version is narrated by Bryson and his voice is just wonderful).
At Bertram's Hotel by Agatha Christie (I'm very fond of Poirot, but I'd throw hands for Miss Marple).
Book you most want to read again for the first time:
Tana French's The Likeness. Really, any of her books will do, because who doesn't like coming into a world-class mystery from scratch? But I think the first time reading this one--when you're as lost and entranced as the protagonist--is particularly special.
Books at the top of your TBR stack (i.e., next up to sit on your nightstand):
Killers of a Certain Age by Deanna Raybourn. A wicked sharp concept written by a lovely human being.
Marple: Twelve New Mysteries. Twelve authors writing new Miss Marple short stories. I am so stinking jealous.
The Women's House of Detention: A Queer History of a Forgotten Prison by Hugh Ryan. Considering the time period and the characters I write about, Ryan is must-read research.