Santa Claus has to log some serious global air miles on Christmas Eve to cover his territory, so it's fortunate that he has so many indie booksellers strategically located to give him a hand when he comes to town, wherever that town may be. Here's a social media sampling of festive indie bookselling spirits internationally as the big day draws near: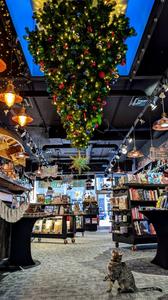 Analog Books, Lethbridge, Canada: "We are in full Christmas mode and the bookstore is looking wonderful.... Hugo still hasn't figured out how to get to that tree."
Brome Lake Books, Knowlton, Canada: "It's beginning to look a lot like Christmas at Brome Lake Books."
Librairie Saint Henri Books, Montreal, Canada: "Holiday Food Drive for St-Henri! We've partnered up with @vsevents to make sure everyone in the St-Henri community has food on the table this Holiday season."
Next Chapter, George Town, Cayman Islands: "Are you looking for books, toys, gifts & games to get the family for Christmas? Our openings hours are extended leading up to Christmas, making it more convenient for you to do your holiday shopping!"
Simply Books, Bramhall, England: "What a busy week we've had! Starting with the lovely Alex T Smith creating our Christmas window with us and signing copies of his gorgeous new book THE GRUMPUS."
Storysmith Books, Bristol, England: "Tree's up, books ready, December sunlight tickling the tables: serenity just before we open and let you meet your new favourite read!"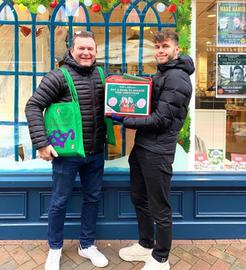 Booka Bookshop, Oswestry, England: "Tim and Louis headed off in the Booka van this morning on a special trip, to deliver our collection of children's books to Oswestry & Borders Food Bank. Thank you so much to all of our customers who donated books, it was so heartwarming to see all the beautiful Christmas hampers being prepared and wonderful to be sharing the magic of books at Christmas."
Anglo American Book, Rome, Italy: "Hello everybody!! we are open for Christmas's holiday on Saturday and Sunday!... we are in via della vite 27 first floor and if the green door is closed... please ring the bell (entry phone) we are inside!!!"
Bridge Bookshop, Port Erin, Isle of Man: "Thanks again to Glynis at Sarah's Florist in Ramsey for our Christmas wreaths. They get so many lovely comments every year, it really has become a Christmas tradition."
Bermuda Bookstore, Hamilton, Bermuda: "Bringing the kids in for the Santa Parade tonight? We are open until 5 on Sundays, so pop by on the way and check out our kids books!"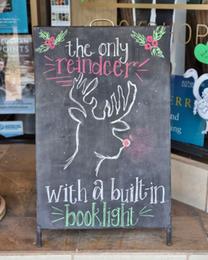 Farrells Bookshop, Mornington, Australia: "I know we said our last sign created by Emma was our favourite, but I think this one beats it! The Christmas spirit is well and alive here at Farrells."
Quick Brown Fox Bookshop, Grange, Australia: "Are you interested in a Christmas Craft Workshop? Just a reminder that we have a range of Christmas Workshops to offer over the Christmas season for adults and children 10+."
The Little Bookroom, Fitzroy North, Australia: "Our shop is looking delightfully festive at the moment! Pop in for a browse of our incredible range ahead of Christmas."
Wardini Books, Havelock North, New Zealand: "Boom! The Kiwi Christmas Books have been delivered to Birthright Hawke's Bay and there will be some very happy little faces on Christmas Day. Thank you, generous readers!"
The English Bookshop, Stockholm, Sweden: "We have many, many books to get the little ones into the Christmas spirit! New ones and classics, some more serious and some more fun--and of course some gems translated from Swedish.... and the English Bookshop-elves are all in our coziest mode. Welcome in for all your gift-needs."
Librairie Delamain, Paris, France: "Did you see it, for this end of the year we chose the theme of MUSIC to decorate our window display. In the run up to Christmas, we present you our selections of musical gift ideas.
Poppies, New Plymouth, New Zealand: "Late-night Christmas shopping this Friday!"
Antonia's Bookstore, Trim, Ireland: "We still have deliveries arriving every day up until the 23rd so if there is a particular book you are looking for drop in or place your order on antoniasbookstore.com."
McLeods Booksellers, Rotorua, New Zealand: "We have had so many donations to @kiwichristmasbooks--our sincere thanks to you for your donations, they'll light up the face and hearts of children this Christmas.... Spread the aroha this Christmas."
Faqir Chand Bookstore, Delhi, India: "It's the most wonderful time of the year. The spirit of Christmas is in the 'togetherness,' it's in the thought to which you put into thinking about others, it's a selfless time, where we forgive, take stock of what's important and become 'better' versions of ourselves. You can't help but feel the love."
Storyteller Bookstore, Kolkata, India: "This anthology captures the distinctive magic of Christmas in India. Edited and with introductions by two of India's finest writers, Jerry Pinto and Madhulika Liddle, it is a splendid collection of essays, images, poems and hymns--both in English and translated from India's other languages--which showcase the variety of Christmas celebrations across the country."
Luddites Books & Wine, Antwerp, Belgium: "It's almost the most wonderful time of the year! To help you out in the quest for the perfect gift, we present to you our snarky gift guide. Catch a sneak peak of our guide here or run to our (online) shop to check out the full guide. You won't regret it! No refunds if you do."