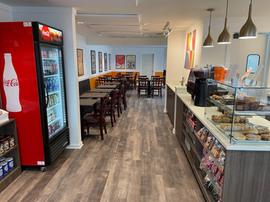 Righton Books, the St. Simons Island, Ga., bookstore that opened in 2019, has expanded its Jittery Joe's coffee shop, which is connected to the store. The addition doubles the amount of square footage for Righton Books to 3,200, and triples the amount of seating in the coffee shop.
The store, owned by Darryl and Anne Peck, was recently mentioned in Southern Living magazine. In the article "A Lowcountry Christmas: Celebrate the Season on St. Simons Island and Sea Island," the magazine wrote:
"When it comes to gift giving, St. Simons Island's Redfern Village is shopping central. It's home to Righton Books, an independent bookstore that opened in 2019 and provides a great selection, including new releases, children's stories, and wonderfully curated offerings in the realms of art, architecture, design, and photography."