The U.S. Postal Service has revealed seven new stamp subjects for 2023, including stamps honoring the late civil rights leader and U.S. Rep. John Lewis, as well as beloved children's book author and illustrator Tomie dePaola.
The John Lewis stamp celebrates his life and legacy, the USPS noted, adding: "Devoted to equality and justice for all Americans, Lewis spent more than 30 years in Congress steadfastly defending and building on key civil rights gains that he had helped achieve in the 1960s. Even in the face of hatred and violence, as well as some 45 arrests, Lewis remained resolute in his commitment to what he liked to call 'good trouble.' "
Lewis was also the author of several books, including the powerful, award-winning series March, created in graphic novel form with Andrew Aydin, illustrated by Nate Powell; Across That Bridge: Life Lessons and a Vision for Change; Wake Up America 1960-1963 (with Andrew Aydin); Civil Rights and the Promise of Equality; and Run: Book One (with Andrew Aydin).
The stamp features a photograph of Lewis taken by Marco Grob on assignment for Time magazine. The selvage showcases a photograph of Lewis taken by Steve Schapiro in 1963 outside a workshop about nonviolent protest in Clarksdale, Miss. Derry Noyes served as art director for this project.
Aydin tweeted: "Every time a new stamp would come out with someone he knew or someone he admired, he would buy sheets of them and give them to some of us. His favorite was the Romare Bearden stamps. I still have them all. I know he would love this. Can't wait to buy some and give some away."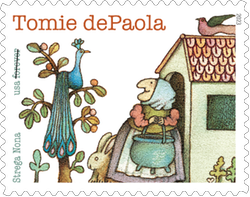 The Tomie dePaola stamp honors the prolific children's book author and illustrator, "whose extraordinarily varied body of work encompasses folktales and legends, informational books, religious and holiday stories, and touching autobiographical tales," the USPS wrote.
The stamp art features a detail from the cover of Strega Nona (1975), the Caldecott Honor winning first book in the series. Set in southern Italy, the gently humorous story focuses on Strega Nona, "Grandma Witch," who uses magic to help with matters of the heart and to cure her neighbors' ills. Art director Derry Noyes designed the stamp with Tomie dePaola's original art.