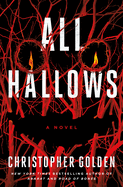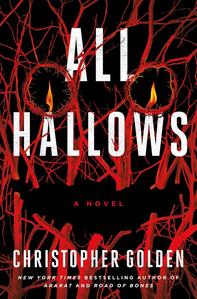 Bram Stoker Award-winner Christopher Golden (Dead Ringers; Road of Bones) blends 1980s nostalgia with eldritch horrors in Halloween terror-fest All Hallows. This ensemble cast horror story is a bloody race against the clock to survive the night set against a backdrop of family and neighborhood drama.
"Tonight, the woods would be full of screams, and he intended to cherish every last one." It's Halloween night in 1984 Massachusetts, and Tony Barbosa and his teen daughter Chloe have put extra effort into their annual homegrown Haunted Woods attraction. Financial troubles and an impending move are sounding a death knell for the tradition. Their neighbors on Parmenter Road face their own struggles. Barb Sweeney fights to stay strong for her kids in the face of her husband's constant infidelity. Everyone whispers rumors that the Burgess couple ran a brothel in their last town and abducted children. While conflict distracts the adults, the kids on Parmenter Road notice something odd while trick-or-treating. Unknown, unkempt children in costumes that look like they came from bygone decades are appearing around the neighborhood. Tween Rick Barbosa and his best friend Billie are trailed by a little boy in a scarecrow costume whom they later must rescue, but Rick is sure something about the child is off. Other creepy children beg kids in the neighborhood for help hiding from "the Cunning Man," the monstrous being hunting them. His coming spells gruesome disaster as well as some surprising twists.
Golden captures the flavor of the 1980s suburb through accurate social dynamics and pop culture references, much as the hit Netflix horror series Stranger Things has done. The chills and kills horror fans expect are certainly here, but Golden also leverages the "selfish cruelty of ordinary people" to create that prickly, on-edge feeling needed to set up a good scare. One particularly emotional plot thread is that of Vanessa, a teen lesbian keeping her sexual orientation secret for fear of backlash and hate. Her closeted-by-necessity status creates an immediate layer of jeopardy before the Cunning Man ever arrives. The story's sense of sliding back and forth from reality into nightmare is evocative of traditions that hold Halloween as a thinning of the veil. The Cunning Man and his child harbingers also have the feel of folklore come to life. Readers looking for supernatural scares dressed up in vintage garb will find both tricks and treats here. --Jaclyn Fulwood, blogger at Infinite Reads
Shelf Talker: Christopher Golden's bloody, folkloric ensemble horror story is set in 1980s suburbia.