Rose Cafe, an online bookstore in Chicago, Ill., with a focus on Black authors and stories, will host a fundraiser early next year to help raise money toward opening a bricks-and-mortar location in the city's Roseland neighborhood, Block Club Chicago reported.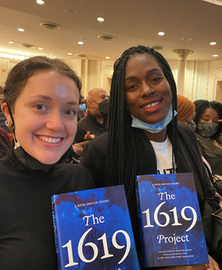 Rebecca Silverman (l.) and Iesha Malone
Co-founders Iesha Malone and Rebecca Silverman hope to raise around $10,000 through the event, which will take place on February 26 at the Discover Financial Services customer care center, and they could open the physical store as early as summer 2023. Through January 2, Rose Cafe will sell early-bird tickets for $30. After that, tickets will go up to $60.
"A lot of organizations have reached out to us and asked us what type of support we have," Malone told Block Club Chicago. "What we're learning is that after our two, almost three years of doing the groundwork, we have a lot of alliances and allies that 100% want to see these doors open. So we're at the point where we want to make sure everybody knows that we're still working on what we've been working towards."
At the same time, Malone is launching the Rose Cafe Foundation, a nonprofit that will work in tandem with the bookstore and cafe. She hopes to create a space in Roseland where kids "feel safe, seen, loved and heard," and where they will have access to literature as well as mentorship and role modeling.
She noted that there is an "alarming rate of violence" in Roseland and she doesn't know "if we can wait another summer" to open a physical space.