It all started at Brazos Bookstore, Houston, Tex., which shared a photo on Instagram of its Lone Star state alternative to a snowman, noting: "We don't get snow (usually) in Houston, but there's always enough supplies to make a boxman! Everyone, we'd like to introduce you to Bertram the Boxman!"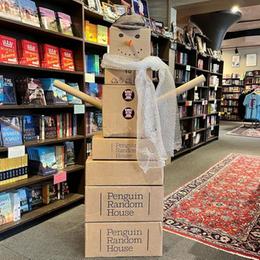 Sherlock Boxman at Murder by the Book
This inspired Murder by the Book, which created its own version: "Looks like boxmen are popping up all over the city! Inspired by our friends at @brazosbookstore, we'd like to introduce you to Sherlock Boxman! Who needs a snowman when you've got your very own mystery solving boxman! Hey @bluewillowbooks, any signs of boxmen over there?"
Blue Willow Bookshop accepted the challenge: "Wow, @murderbooks, you were right! The boxmen parade continues through Houston--Willow popped up in our bookshop this afternoon. So far, Sherlock Boxman has visited our friends at @murderbooks, and the original boxman, Bertram the Boxman, popped up at @brazosbookstore!"