For Paulina Springs Books in Sisters, Ore., the holiday season got off to a bit of a slow start, explained store owner Lane Jacobson. While weekends were "stellar," weekdays were "slower than normal," and there were a few storms in early December that kept people at home. Sales were down about 5% through the first half of the month, Jacobson noted, but for the last two years the store has been "smashing records every single month" and things were "bound to cool off at some point."
October and November were a "few points down from last year," he continued, but Black Friday/Small Business Saturday weekend was up about 10% compared to 2021. Thinking ahead, Jacobson said it was hard to know what to expect--he wouldn't be surprised if the store had a "crazy finish to December" or if Paulina Springs Books ended up "5%-10% down from last December."
While the store hasn't had any runaway bestsellers yet this holiday season, a mix of new releases, evergreen backlist, regional authors and Pacific Northwest Booksellers Association holiday catalogue titles have done well. They include: A World of Curiosities by Louise Penny; The Boy, the Mole, the Fox and the Horse by Charlie Mackesy; Demon Copperhead by Barbara Kingsolver; The Light We Carry by Michelle Obama; Braiding Sweetgrass by Robin Wall Kimmerer; Inciting Joy by Ross Gay; Big Panda and Tiny Dragon by James Norbury; Beneath the Bending Skies by Jane Kirkpatrick; The Overstory by Richard Powers; and The Bear by Andrew Krivak.
On the subject of supply-chain issues, Jacobson said there have been a few regional catalogue titles that publishers "clearly underestimated demand for," but otherwise things have been manageable, "with the exception of our Ingram deliveries." Shipments from the Roseburg, Ore., warehouse, he reported, used to arrive reliably next day; over the past two months or so, they've been taking up to a week to arrive and sometimes come in split shipments, with some cartons "trailing behind as much as 10-12 days." There have also been more delays with print-on-demand titles from Ingram's Tennessee warehouse.
Other than that, deliveries from a few of the Big Five are arriving in a consistent 2-3 days and sidelines are actually arriving faster than the team expected, so "overall we've been very happy with supply-chain stuff so far this season."
---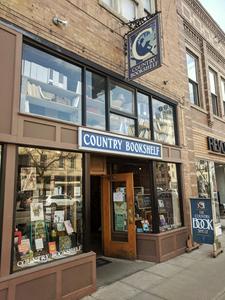 Kasey Kane Charbonneau, manager of Country Bookshelf in Bozeman, Mont., reported that the store is "definitely in the swing of things" and it "feels very much like we're in the homestretch at this point." There were a few downtown events in late November and early December that brought some early foot traffic to the store, but there was not "an extraordinary surge in early shopping" this year.
Charbonneau noted that although the weekend of the 17th was "potentially our busiest weekend ever," overall sales seemed to have cooled off compared to the past two years. However, the Country Bookshelf team "never expected to keep up with those pandemic levels of sales, and it feels like a far more sustainable pace this year."
With less than a week until Christmas, Braiding Sweetgrass is in the lead for book sales, followed closely by Breathless by David Quammen, Demon Copperhead and The Alpha Female Wolf by Rick McIntyre. Charbonneau pointed out that many of the store's bestsellers in 2022 have strong local ties.
On the topic of supply-chain issues, Charbonneau said there's been "nothing extraordinary." While some shipments have been a bit slow to arrive, there's been "heavy winter weather" all month.
---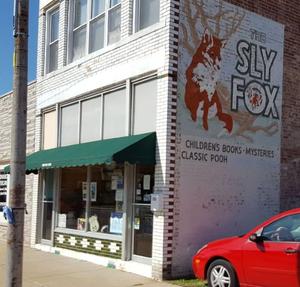 The Sly Fox in Virden, Ill., is having a "banner year," reported store owner George Rishel. The shop's sales for 2022 surpassed the 2021 total during Thanksgiving weekend, and Rishel said this will be the store's best holiday season since the shop opened 25 years ago.
Rishel noted that despite strong fourth-quarter sales--higher than the fourth quarter 2021--sales this December will actually be down about 20%-25% compared to December 2021. He attributed that decline to the effects of high gas and food prices as well as the bleak economic outlook. And although books with printed prices on them have been "inflation proof" so far, he expects prices to start increasing in 2023.
The store's bestsellers this holiday season have included Number One Is Walking by Steve Martin; The Mosquito Bowl by Buzz Bissinger; The Better Homes and Gardens New Cook Book; The Boys from Biloxi by John Grisham; Demon Copperhead; and Farmhouse by Sophie Blackall. Popular sidelines include store-branded sweatshirts, dish cloths and tote bags from Chronicle. The totes, Rishel added, have been particularly popular with book club members. --Alex Mutter