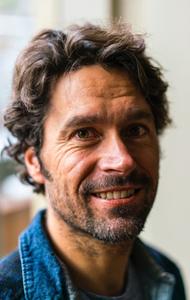 photo: Ming Poon
Jeremy Jones is a professional snowboarder, the owner of Jones Snowboards and the founder of Protect Our Winters, a global nonprofit that unites outdoors people in protecting the places they love from climate change. The recipient of 11 Big Mountain Rider of the Year awards from Snowboarder magazine and a National Geographic Adventurer of the Year, Jones has starred in dozens of snowboard films, including his trilogy Deeper, Further and Higher. He is the author of The Art of Shralpinism: Lessons from the Mountains (Mountaineers Books), a personal approach to how to think about mountains, snow and adventure.
Handsell readers your book in 25 words or less:
This book peels back the layers of my mountain life, the lessons learned and intimacy gained. It's a guide for the whole mountain community.
On your nightstand now:
A random selection! I've been dipping in and out of Undaunted Courage by Stephen Ambrose for a few years now, trying to see our western landscapes with new (old?) eyes and to learn what drove Lewis and Clark.
I've also been making my way through A Promised Land by President Obama, whom I've been lucky to meet and greatly admire.
I read more nonfiction than fiction, but I just finished The Overstory by Richard Powers. I am a tree hugger and this book gave me a new perspective on the intricacies of trees and forest that I was missing.
Surfing has been a part of my life since I was a kid. When I want to go on a mental vacation, I dig into No Bad Waves by Mickey Muñoz, a California surf master who has lived a full life of adventure that is very inspiring to me.
The Mindful Athlete by George Mumford is another inspirational book I turn to again and again.
See You Tomorrow by Jeremy Evans is about the disappearance of fellow rider Marco Siffredi on Everest. It will be a tough read, but I owe it to him.
Finally, I have a daughter and a son who were both inspired to read The Hate U Give by Angie Thomas after seeing news headlines about Black Lives Matter. I want to read it, too, so we can all talk about race and social justice issues together.
Favorite book when you were a child:
To Kill a Mockingbird by Harper Lee. It was the first book I can remember being affected by. It wasn't just homework. Up until this book, I viewed reading as a chore, not a pleasure.
Your top five authors:
Right now I would say Ryan Holiday, as he seems to always sum up things I've been feeling but have been unable to articulate, especially in his Stillness Is the Key. I love his discussion of the Buddhist concept of "walking meditation."
Obi Kaufmann! He is brilliant and combines art and science in such beautiful and cool ways. I look forward to everything he does.
Jon Krakauer's work never gets old; it's always compelling. He contributed to The Art of Shralpinism, which has me revisiting some of his earlier books.
And I've been on a Vonnegut kick ever since I can remember. I love how loose and radical his writing feels. My father grew up next door to the Vonnegut family and was close with Kurt's kid. My brothers and I actually hung out with him at that same kid's wedding when I was just 15.
And then there's Muir. I did a film back in 2018 called Ode to Muir about the John Muir Wilderness and High Sierra of California. I know he has become controversial recently, but I continue to find inspiration in how he experienced and wrote about wilderness.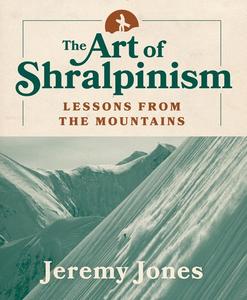 Book you've faked reading:
I have read only about half of Speed & Scale: A Global Action Plan for Solving Our Climate Crisis Now by John Doerr, but I often reference it.
Book you're an evangelist for:
The California Field Atlas by Obi Kaufmann. I am in awe of his work and ethic and understanding of our physical world.
Book you've bought for the cover:
Kaufmann's The Coasts of California. Stunner.
Book you hid from your parents:
I don't remember ever hiding a book from them.
Book that changed your life:
Let My People Go Surfing by Yvon Chouinard started me thinking about how I wanted my career to evolve. I built both Jones Snowboards and Protect Our Winters with many of his ideas and ethics clearly in mind.
Favorite line from a book:
From Zen and the Art of Motorcycle Maintenance by Robert M. Pirsig:
"Mountains should be climbed with as little effort as possible and without desire. The reality of your own nature should determine the speed. If you become restless, speed up. If you become winded, slow down. You climb the mountain in an equilibrium between restlessness and exhaustion. Then, when you're no longer thinking ahead, each footstep isn't just a means to an end but a unique event in itself. This leaf has jagged edges. This rock looks loose. From this place the snow is less visible, even though closer. These are things you should notice anyway. To live only for some future goal is shallow. It's the sides of the mountain which sustain life, not the top. Here's where things grow."
Five books you'll never part with:
Rules for a Knight by Ethan Hawke is a fable in the form of a letter to a knight's children and explores the meaning of life, spiritualism, humility. I like to start my day with a few minutes of reading, and this one always delivers a line or two of inspiration.
I'll keep my copy of Drawn by Jeremy Collins, because he's a friend and because I aspire to his artistry.
Avalanche terrain is a core part of my life, and Staying Alive in Avalanche Terrain by Bruce Tremper is the core book on the subject.
For pure stoke, There and Back by Jimmy Chin, another friend and a master photographer. No one shoots mountains like he does.
And for sentimental reasons, No Words for the Way Down, the first book that I published with my brothers at Teton Gravity Research. The new book is very different, but this earlier one encapsulates my journey filming the trilogy that includes Deeper, Further and Higher.
Book you most want to read again for the first time:
Endurance by Alfred Lansing--the adrenaline, the leadership, the frigid landscape, the cat.
Your favorite guidebooks:
Extreme Alpinism by Mark Twight and Force of Nature by Laird Hamilton. Both taught me that guidebooks could be more than just textbooks or practical instruction and that the mental and emotional states are equally if not more important.