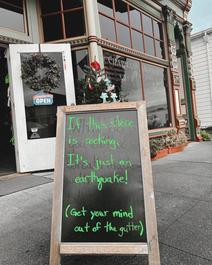 A 6.4 magnitude earthquake struck early Tuesday in Northern California's Eureka area. Yesterday, Chapman's Bookery and More in Ferndale posted on Facebook: "We are OPEN!! Doing the best we can with no power but lots of daylight. We will be cash only until the power comes back on. Fernbridge is still closed as of this post but Blueslide Road is open. Sending love and prayers to those who are dealing with the aftermath of this earthquake."
Later, the bookshop shared a photo of its sidewalk chalkboard message--"If this store is rocking, it's just an earthquake! (get your mind out of the gutter)"--noting: "Even during earthquakes, we still got jokes! We are OPEN for regular business hours!! Come on over and finish that Christmas shopping and support our local businesses."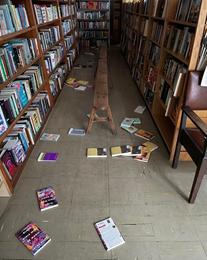 On Tuesday, Eureka Books in Eureka checked in on Instagram, reporting: "CLOSED for the day. PLEASE come visit us once the power is back on! We lucked out! Just a few books to put back on the shelves."
The bookseller provided an update yesterday: "We hope everyone is getting what they need out there as we recover from the earthquake. If you're getting back to normal, please come down to Old Town and support our small local businesses who all lost one of their biggest days to recovery yesterday. The bookshop is warm and cozy today and we would love to see you on your way to say hi to all of our wonderful neighbors."