Never inclined to shy away from clickbait headlines, the Weather Channel dropped this one yesterday: "Winter Storm Elliott to Bring Blizzard Conditions, High Winds as It Grows into a Potential Bomb Cyclone." As indie booksellers approach one of the most important weekends of the year, they have been providing considerably less frantic weather advisories on social media. Here's a sampling: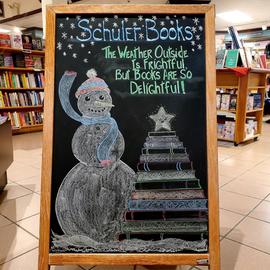 Schuler Books, Grand Rapids & Okemos, Mich.: "Last minute shopping? It's been a weird year and the holidays snuck up on a lot of us. And now we have this little winter storm named Elliott threatening to play the Grinch this Friday. A few thoughts: Will we have an actual Christmas blizzard just like in Rudolph? Who can say. But according to the weather forecasters it's possible. Don't let panic sink in. We're here to help!... Kind of like the USPS, neither snow nor rain, nor gloom of night, will keep us from being open when you need us."
The Green Dragon Bookshop, Fort Dodge, Iowa: "We got one last shipment in before the winter storm. Come and find a book to cozy up to while the snow is blowing for yourself or as a present."
A Room of One's Own, Madison, Wis.: "This week is going to be tough with snow and sickness! Please have patience if our hours are shortened or we are short staffed. We're still trying to make it the most wonderful time if the year! Stay safe and warm!"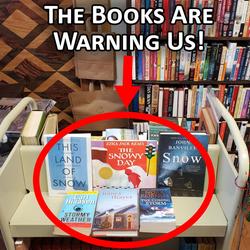 Midland Street Books, Bay City, Mich.: "Do you ever feel like a book is saying exactly what you need to hear at that particular moment? This is one of those moments! With a winter storm incoming, you may want to get that last-minute holiday shopping out of the way today rather than waiting."
Downtown Book & Toy, Jefferson City, Mo.: "We're not anticipating this much snow but we are keeping an eye on the upcoming storm! We'll post more info as we go!"
Yardstick Books, Algoma, Wis.: "It's easy for Yardstick to get to work, inclement weather or no. We'll be here for your holiday book purchases (The Best Gift! Plus easy to wrap!) even if you have to tie a clothesline to your porch to get here. Stay safe. Read books."
Literary Book Bar, Champaign, Ill.: "No doubt you've seen the forecast. We're planning for our hours to resume as planned, but you never ~snow~ when things will go to plan. Keep an eye out here for any updates!"
Coyote Wisdom Metaphysical Bookstore, Lansing, Mich.: "We've combined our month long deals into a few days to try and beat the winter storm and finish Holiday Shopping!"
Pageturners Bookstore, Indianola, Iowa: "Bad winter weather looks imminent for Thursday and Friday this week, so today and tomorrow are the best days to do your holiday shopping! If the weather is bad enough, we will be closed on Thursday and Friday, but we will keep you up-to-date as we keep an eye on that Old Man Winter!"
Read Between the Lynes, Woodstock, Ill.: "Yes, we've extended our hours and plan to be here for you this week for your holiday shopping needs. However, there's a whole snow-blizzard-major-weather situation forecasted. So, we'd like to suggest visiting us as early as you can, in case things get too weather-y out there. Not only do we want to help you with your holiday shopping, but we also want you to be safe."
Plaid Elephant Books, Danville, Ky.: "The freezing temps are rolling in tonight. Tomorrow will definitely be a Cozy kind of day!"
Buffalo Books & Coffee, Buffalo, Minn.: "Okay folks, we hate to do this the week of Christmas, but we are CLOSING EARLY today (12-21) so our employees can get home safely.... We are also going to OPEN LATE tomorrow, so our employees can travel safely in the daylight.... Stay safe out there everyone!"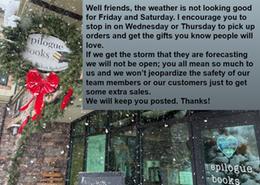 Epilogue Books, Rockford, Mich.: "Well friends, the weather is not looking good for Friday and Saturday. I encourage you to stop in Wednesday or Thursday to pick up orders and get the gifts you know people will love. If we get the storm they are forecasting, we will not be open; you all mean so much to us and we won't jeopardize the safety of our team members just to get some extra sales."
Afterwords Books, Edwardsville, Ill.: "Rumor has it that Snowmageddon 2022 is headed our way and during the last week of holiday shopping no less! Bread? ✔️ Milk? ✔️ Books and last minute Christmas gifts??? We got you!"
Prairie Lights Bookstore, Iowa City, Iowa: "May the prediction of snow be the prediction of peace...."