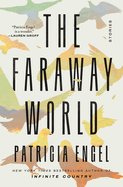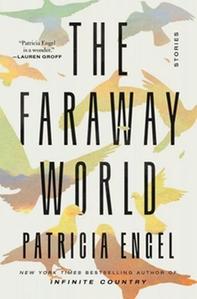 The 10 short stories in Patricia Engel's fifth book, The Faraway World, contrast dreams and reality. Money and religion are opposing pulls for her Latinx characters as they ponder whether life will be better at home or elsewhere.
These stories, all told in the first person, are set in Colombia, Cuba or the U.S.--often, the narrators have roots in more than one, so their loyalty is split. In "La Ruta," Mago, a Havana cabbie, becomes infatuated with a passenger who's visiting churches 300 days in a row as a way of praying to join her aunt in San Diego. Mago in turn contemplates leaving his nagging girlfriend, Florencia, who delivers a grim punch line: "I realized life is hard and miserable no matter where you live."
In "Guapa," 40-something Indiana works in a New Jersey factory and is addicted to cosmetic surgery, for which she regularly flies home to Colombia. When her crush on a younger co-worker leads to an ironically horrendous incident, she voices a conclusion similar to Florencia's: "Bad fortune is as certain yet unpredictable as the weather."
Existence is indeed bleak for some characters here, but moments of connection can temper the tone. In "Libélula," a housekeeper resents her employers--fellow Colombians in New York City--yet learns that she, effortlessly, possesses something they covet. The standout, fable-like in its framework, is "Fausto," starring Paz, who works in her father's restaurant in Miami, and her boyfriend Fausto Guerra, a security guard. The couple are saving up to get married, but their plans go awry when Fausto is drawn into illegal schemes. (How apt that parts of the protagonists' names translate to "war" and "peace.")
"The Book of Saints" has the most noteworthy structure, alternating stages in the lives of a young Colombian woman and the American man she meets via a dating agency. As that title suggests, devoutness is important throughout the collection. In "Ramiro," for instance, a kid living in a Bogotá slum gets a second chance as a priest's assistant, but greed vies with his piety.
Other plots concern a missing Colombian-American teen ("Aida"), an aspiring Russian novelist ("Campoamor") and a woman reinterring her brother's remains ("The Bones of Cristóbal Colón"). In the final story, "Aguacero," expats commiserate over the troubles of their past: "Colombia is a rabid dog," they assert.
Engel (Infinite Country; Vida) spins morally complex and troubling stories featuring flawed but gutsy characters. --Rebecca Foster, freelance reviewer, proofreader and blogger at Bookish Beck
Shelf Talker: Patricia Engel's 10 short stories are narrated by plucky, imperfect characters who weigh up wealth and piety as they contemplate their chances in their homeland or abroad.