My holiday season gift-giving past performance record for this column over the 16 years of its existence has been appalling, downright Scrooge-like. To make amends, I'm sharing a book-related Yuletide gift you can immerse yourself in daily from winter solstice to year's end.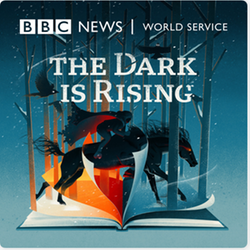 The Dark Is Rising, a 12-part dramatization of Susan Cooper's classic 1970s novel for BBC World Service, is now available on BBC Sounds and Apple Podcasts. From December 20-31, daily radio broadcasts are being released on BBC World Service at 8:30 a.m. U.K. time, mirroring the real-time of Cooper's wintry tale.
A co-production of Complicité and Catherine Bailey Productions, The Dark Is Rising "tells the story of Will Stanton, an ordinary boy who begins to have eerie and magical experiences on his 11th birthday, one snowy December. Will discovers that he belongs to a group of ancient, time-travelling beings called the Old Ones, who are guardians of 'the Light'--and must wage an unending battle against the forces of 'the Dark.' Listeners will be drawn into a spine-tingling, immersive winter soundscape--we recommend wearing headphones to experience the full 'binaural' 3D-sound effect."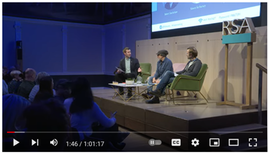 The novel was co-adapted by bestselling author Robert Macfarlane (The Old Ways: A Journey on Foot, Underland: A Deep Time Journey) and Simon McBurney, actor and Complicité's artistic director (they discuss the project here). In addition to co-adapting, McBurney directed the performances and voiced the narrator. The cast also includes Toby Jones, Harriet Walter, Miles Yekinni, Natasha K. Stone, Maggie Barnes and 13-year-old Noah Alexander Will.
A word about "binaural" sound: in 2016, I saw McBurney's stage production The Encounter in New York. The production was "based on" Petru Popescu's book Amazon Beaming, but it became so much more when filtered through McBurney's imagination. I sat in a sold-out Broadway theater, wearing headphones like everyone else in the audience, and became part of this incredible act of storytelling. Safer than being lost in the Amazon jungle, but mind-blowing nonetheless.
Listening to The Dark Is Rising is a very different experience, but also a genuinely mind-bending way to encounter a book.
In the Observer recently, Macfarlane wrote: "I first read Susan Cooper's The Dark Is Rising the summer I turned 13, the year the Berlin Wall came down. I read it by torchlight under the bedclothes, not because of parental curfew or power cut, but because that seemed the safest place to read what was, unmistakably, the eeriest novel I'd ever met....
"I know of many other writers and artists, among them Katherine Rundell and Helen Macdonald, for whom Cooper's work has also been influential. For Max Porter, the series 'did more for my imagination, for my vocabulary, for any curiosity or concern I had for Englishness, for history, for listening, than anything I learned at school'; it gave him and his brother 'a mythology that we could see and feel around us in rural England, and on our windswept holiday weeks in Snowdonia.' "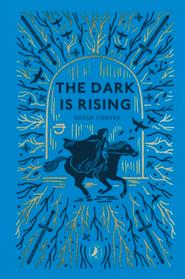 In 2017 Macfarlane gave a copy of the novel to McBurney, who subsequently read it aloud to his son, Teyo, and then read it to him again, after which he and Complicité developed the idea of adapting it.
"I jumped at their invitation of involvement," Macfarlane recalled. "It made immediate sense to me to translate The Dark Is Rising into sound. For this is a novel, far more than most, to which one listens with the mind's ear as well as seeing in the mind's eye. Its soundscape is deeply complex; brimful of noises, melodies, songs and chants. Speaking aloud is crucial within it: words hold force when given voice--you must watch what you say."
As the Covid pandemic shuttered theaters globally in May 2020, McBurney livestreamed The Encounter free for a week, and I experienced it a second time--with headphones, but now alone at my desk instead of inside the packed Golden Theatre in Manhattan--and became fully immersed once more. As I have again now with The Dark Is Rising.
In an interview back then, McBurney observed that one of the principal metaphors of The Encounter "was to have these headphones, so to cut yourself off from the usual sense of being in a collective audience and to make it a highly individual experience. And also, as a consequence of my speaking into several microphones and using a binaural microphone, to make it seem as if there is space around you, rather than speaking from the stage out.... Now it's not just the technical expertise; it is of course the fact that part of the subject of it are the stories we tell, and this sensation of telling a story... So you have two forms of intimacy, if you like, that are going on and then you have the subject matter, the fact that you are going on an imaginative journey and a literal journey."
As Macfarlane observed: "People have been telling stories to one another around fires of one kind and another for thousands of year. Cooper learned the power of storytelling in the air raid shelter as bombs fell around her. I first read her books by torchlight, and they helped me cope with the anxiety I felt then at the possibility of nuclear conflict. Now new-old fears--climate chaos, war, ecological collapse--menace our minds. The dark is always rising, and it is the work of the greatest stories to hold it back."