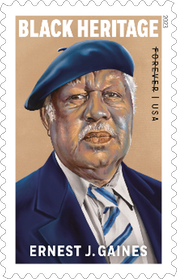 The U.S. Postal Service will issue a new Forever Ernest J. Gaines Black Heritage Stamp, the 46th stamp in the Black Heritage series. It honors the author whose works include the novels The Autobiography of Miss Jane Pittman and A Lesson Before Dying. The first-day-of-issue event for the Ernest J Gaines Black Heritage stamp is scheduled for January 23, 2023, at the University of Louisiana at Lafayette.
"Adding a vital African American voice to American literature, Ernest J. Gaines brought worldwide attention to generations of men and women who asserted their own dignity in the face of racial oppression and violence," the USPS noted.
In 2013, Gaines accepted the National Medal of Arts from President Barack Obama, calling it the greatest honor he had ever received. The Baton Rouge Area Foundation continues to endow an annual Ernest J. Gaines Award for Literary Excellence, which recognizes African American fiction writers who are just beginning to rise to national prominence.
Mike Ryan designed the stamp with art by Robert Peterson. Greg Breeding served as art director.