The holiday season is the perfect time to share family photos, and several indie booksellers used the moment to post staff pics on social media, including: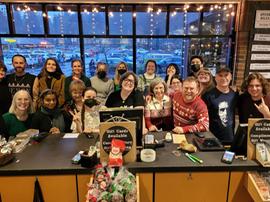 At Third Place Books
Third Place Books, Lake Forest Park, Wash.: "HAPPY HOLIDAYS FROM THIRD PLACE BOOKS!!! We want to thank all our customers who came into our stores and made Third Place Books their holiday shopping destination! We are so grateful to all of you. Special thanks to the crew of booksellers and gift wrappers. We did it!!... As always, happy reading everyone."
Carmichael's Bookstore, Louisville, Ky.: "Happy Christmas Eve from the closing crews at our Bardstown Road and Frankfort Avenue locations."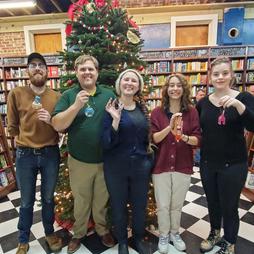 At Cavalier House
Cavalier House Books, Denham Springs, La.: "Happy Christmas and merriest of holiday wishes to one and all! We've had an amazing year and a lovely holiday season! Wishing everyone the very best in the coming year!"
Vintage Bookstore & Wine Bar, Austin, Tex.: "From our little family to yours, Happy Holidays! Wishing you all a wonderful season of celebrations!"