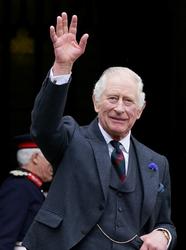 Authors Hermione Lee, Catherine Belton, Francesca Simon and Dara McAnulty were among those recognized in King Charles III's first New Year's Honors list, the Bookseller reported.
Lee was awarded a Knights Grand Cross of the Order of the British Empire, the highest OBE honor possible, for services to English Literature. British Library CEO Roly Keating received a knighthood for services to literature, alongside artist Grayson Perry, author of The Descent of Man and Playing to the Gallery. Vernon Bogdanor, author and professor of government at King's College, London, was given a knighthood for services to political science.
CBEs went to Neil Mendoza, commissioner for Cultural Recovery and Renewal, the task force set up to advise on how U.K. culture could recover after Covid-19, and to Claire Whitaker, a member of the cultural recovery board, for services to arts and culture.
Awarded OBEs were author Kimberley Griffith Reynolds for services to literature and David Sutherland for services to illustration.
Catherine Belton, author of Putin's People: How the KGB Took Back Russia and Then Took on the West, received an MBE for services to journalism while the Horrid Henry series author Francesca Simon got an MBE for services to literature. Also awarded an MBE was historian and editor Helena Whitbread for services to history and to literature, along with Stephen John Bleakley for services to libraries and to the community in Fermanagh, Omagh and Fivemiletown; Dr. Edson Burton for services to the arts and to the community in Bristol; and Susan Anne Crowley for services to public libraries.
A separate overseas honors list compiled to recognize "extraordinary people" for their service to the U.K. overseas and abroad included Lesley Lokko, founder and director of Africa Futures Institute in Accra, Ghana (OBE for services to architecture and education), and author Dara McAnulty (British Empire Medal for services to the environment and to people with autism spectrum disorder). Also receiving OBEs were librarians Zoey Dixon, Alan Garnsworthy and Sylvia Knights.
British Empire Medals went to authors Jessie Smith for services to the Scottish Traveller community; Molly Watts for services to literature during Covid 19; and Reverend Jason Young for services to cultural heritage and public awareness of Black British history through the creative arts.