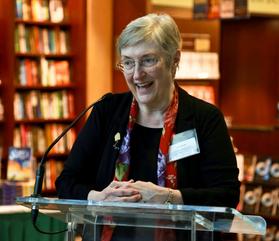 Joyce Meskis
A range of former Tattered Cover staff members and friends in the book world remember Joyce Meskis, who died on December 22, 2022, at the age of 80:
The Tattered Cover wrote that after Meskis bought the business in 1974, "the store grew as Denver did, eventually becoming one of the largest and most revered bookstores in America. During Meskis's tenure, Tattered Cover was also a bastion of the First Amendment, earning Joyce many awards for her activism.
"Joyce is the reason why we are all able to call Tattered Cover home. Joyce was a literary lioness that evolved our industry in a way that few others had done before her. She was also a friend and mentor to so many at Tattered Cover and around the globe.
"We are currently coming up with ways to honor Joyce and her global legacy and will keep you apprised of any new information. For now, please hug your colleagues, family, and friends. Life is too short."
Oren Teicher, former CEO of the American Booksellers Association: "Joyce was one of the first people I met in the book business, back in the late '80s. She had a profound influence on everything I did for the next 35-plus years. All of us who had the privilege of working and knowing her are better off as a result.
"Not only did she invent the modern indie bookstore, but she framed the debate over free speech in a way no one else ever did. Her courageous stands were legendary. Long before it was fashionable, Joyce also led the way in treating all employees with dignity and respect. She set a standard for integrity that was unmatched.
"Anyone who knew Joyce also knew that she was a fiercely private person and would shun off any and all accolades that came her way, but no one deserves to be praised more than she. The Tattered Cover, the larger Denver community and the entire book industry have lost a giant."
Kristen Gilligan, Len Vlahos, Cathy Langer, Joyce Meskis and Oren Teicher at Tattered Cover in 2016. (via)
Len Vlahos, former co-owner of Tattered Cover with his wife, Kristen Gilligan: "For all of the truly great things Joyce accomplished, she remained both humble and grounded. I saw firsthand how she valued the opinion of every colleague and took the time to see any and all challenges from every angle. Kristen and I learned so much from Joyce during our first couple of years at Tattered Cover, and we will forever be in her debt. She was a remarkable woman whose impact in Denver and the book community will be felt for generations to come."
Cathy Langer, retired longtime Tattered Cover staff member and director of buying: "One of the many words of wisdom I learned from Joyce when I started working at the Tattered Cover was 'leave your ego at the door.' Initially it was a gentle reminder to new booksellers that we didn't know everything (!), but it was also a mantra that impacted how we came to think about our work, customers, friends and family. We learned how to listen, carefully and respectfully. We learned how to be open to new ideas and differing opinions. We learned how to do hard things and that mistakes were okay. No one is perfect.
"Joyce was the embodiment of that mantra. This amazing, brilliant, kind visionary would deflect attention and accolades, of which there were many, and thank and sing the praises of those who wanted to celebrate her. In our grief and appreciation of the impact she made on our world, recounting all the good things she accomplished and the good fights she fought, we know what she'd say in response. She would say thank you all for all you do. I say: Thank you Joyce, for changing so many lives and for making the world a better place."
Mitchell Kaplan, owner of Books & Books in southern Florida: "In her quiet, steady way, Joyce influenced an entire generation of booksellers. Her fierce advocacy for the right to read and First Amendment protections became a North Star guiding so many of us as we faced challenges in our own communities. Little did I know when I was a student at the University of Colorado in Boulder during the mid-1970s making my way to the early iterations of the Tattered Cover that I would have the pleasure to serve with her on the board of the ABA and in the process develop a better understanding of the profound and sacred responsibilities of independent bookselling."
Chuck Robinson, co-founder and former owner of Village Books, Bellingham and Lynden, Wash.: "I was so fortunate to have Joyce as a friend and mentor. We joined the ABA board at the same time and I later became her vice-president. We spent a lot of time together over the course of my nine years on the board.
"Those who knew her well know how she was often very private with personal information. One of my favorite memories was of a time that we were at meetings in New York City and staying in the same hotel. After an evening event, we sat in the bar drinking wine and discussing the book business. As the bar closed, we took our glasses to a bench in the lobby. I then asked Joyce how her life was, aside from the book business. She beamed, then went on to tell me about Jed. I don't think I'd ever seen her so happy.
"The book business has lost a great person and the fiercest champion for the First Amendment that I've ever met, and I've met quite a few."
Suzy Staubach, former general books division manager at the old UConn Coop Bookstore, Storrs, Conn.: "Joyce was the North Star for so many of us in bookselling. Wise. Strong. Passionate yet calm. Her advocacy for the Freedom to Read set the bar for the rest of us. Even though she was a leader, she always acted if you were her equal. I had the honor of working with her on various bookselling committees, task forces and boards, and always came away learning from her and admiring her. And loving her. Even competitors learned from her. After all, it was the green rugs and comfy seating in her stores that Barnes & Noble copied."
Kent Watson, executive director, Small Press Distribution: "Joyce Meskis was an absolute book industry champion who created one of the most iconic bookstores in the world. A bookstore that openly trusted and respected staff and customers. A solace to any reader. An oasis that defended First Amendment rights allowing everyone to find what they wanted to read. A store where customer service was paramount.
"Joyce's vision of allowing people to shop and enjoy books in a comfortable environment with overstuffed chairs, warm wood tones, and inviting green carpet created a relaxed atmosphere. No detail was overlooked, even the computers were painted dark brown to try and conceal them.
"In November of 1990, I was lucky enough to be hired by the Tattered Cover. I had no idea how my temporary holiday work would impact my life. Over the course of three-and-a-half years, I worked at the store and become the newsstand buyer. Through what I learned from Joyce and the Tattered Cover, I went on to work in other facets of the book/publishing industry. I have lifelong friends that I met at Tattered Cover, friends who not only help each other but continue to shape the book industry.
"I use the book industry skills and customer service I learned at the Tattered Cover each day. In fact, I use an '8 at 8' store meeting structure in each meeting that I hold. The '8 at 8' was a monthly meeting held the eighth day of each month at 8 a.m. The meeting was open to all staff, had no agenda, and offered any staff member the opportunity talk through anything. No subject was off limits. The meeting created an open environment of trust, compassion, and understanding for everyone."
Kalen Landow, sales director at Microcosm Publishing: "I have never met a person more consistent in their values than Joyce. She was unwavering in her commitment to the First Amendment and reader privacy.
"I was at Tattered Cover when The Satanic Verses was released. Her commitment to free expression was inspiring and we all knew we were part of something important in her (and our) commitment to continue selling the book. I hold that as a proud time in my career.
"I learned my customer service ethic from her. Again, she was consistent and always empowered employees to make the best decision possible in the moment--nearly any situation could be unraveled/reconciled on the back end and should disrupt things for the customer as little as possible.
"Funny, I still bristle when a bookseller or a grocery clerk comments on a purchase. She believed that what we buy is deeply personal. The novel I'm buying right now might not be at all sensitive, but the person in line behind me might be buying a book they are uncomfortable buying, something on a sensitive topic. You wouldn't want them to overhear that conversation for fear they might decide not to make their purchase because the cashier might take note of what they're buying. Or worse, comment on it. And that might be the book that will save their life."