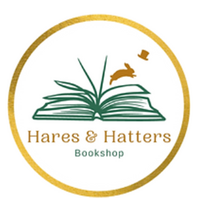 Hares & Hatters Bookshop made its debut last month as an online store and holiday pop-up, the Idaho State Journal reported.
Owners Nicki Stanton and Jamie Robyn Wood plan to open a bricks-and-mortar store in the Pocatello, Idaho, area later this year, and in the meantime are raising funds and building an audience through a quarterly book box subscription service, pop-up shops and online sales.
Wood and Stanton offered two book boxes in December. The Mad Tea Party Book Box, which cost $45 and focused on women's fiction, featured a book, tea and an assortment of other items. The Curiouser & Curiouser box, which cost $40, contained two children's books, a custom pin and other fun items. They plan to continue selling those boxes while supplies last, and soon will start taking orders for the March boxes, which will focus on independently published authors.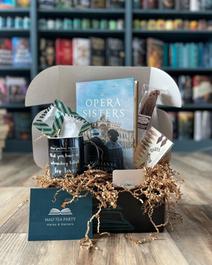 The Mad Tea Party Book Box
Stanton and Wood held their first pop-up appearance at Glean Coffee Roasters during Pocatello's First Friday Art Walk. Stanton noted that they tried to make the pop-up feel "as much like a little bookstore as possible," and Wood said she experienced the joy of handselling for the first time.
The co-owners explained their pop-up appearances will help them scout for a location for the bricks-and-mortar store. They don't have a specific spot in mind yet, but they've already considered downtown Pocatello as well as the Northgate neighborhood. They noted that while there already is a bookstore in Pocatello (which coincidentally also has a name inspired by Alice in Wonderland), they feel that their offerings are different enough that they won't be stepping on any toes.
"We're just trying to hustle to that space as fast as possible," Stanton told the Journal. "And so it'll be books and community and authors and access, and it's gonna be all of the things that we love--and that we think would be great for our community too."