photo: Deidhra Fahey Photography
Identical twin sisters Amber and Danielle Brown graduated from Rider University, where they studied communications/journalism and were on the editorial staff of the On Fire!! literary journal. They then pursued a career in fashion and spent five years in New York City, eventually managing their own fashion and lifestyle blog--experiences that served as inspiration for the glamorous fashion backdrop in Someone Had to Do It (Graydon House, December 27, 2022), their debut thriller. They both live in Los Angeles.
Handsell readers your book in 25 words or less:
A fun, sexy, cat-and-mouse thriller set in the glamorous New York City fashion scene, dripping in social satire where privilege and prejudice intersect.
On your nightstand now:
Lessons in Chemistry by Bonnie Garmus; Sorrow and Bliss by Meg Mason; Jackal by Erin E. Adams.
Favorite book when you were a child:
Our mom and dad used to always read us bedtime stories, and so many of them live rent-free in our minds to this day. But we have to say our favorite is probably one of the stories from Arnold Lobel's Frog and Toad series where Toad is searching for his lost button, only to come home and find that it was home all along. Still makes us get teary-eyed. But we also get really nostalgic when we think about the Franklin series by Paulette Bourgeois and The Runaway Bunny by Margaret Wise Brown.
Your top five authors:
There are a ton of authors we've only read one book by (mainly because that's all they've released so far) but, to be fair, we're selecting only authors that we've read and loved at least two books from: Fredrik Backman, Ibram X. Kendi, Madeline Miller, S.A. Cosby, Matt Haig.
Book you've faked reading:
Pretty much everything we were supposed to read in college. We couldn't afford to buy books for our classes, so SparkNotes was definitely our friend. Brave New World by Aldous Huxley comes to mind, because we specifically remember telling our professor we didn't have money to buy it and she let us borrow her personal copy--because there was a paper due on it, worth 30% of our grade. We ended up never reading it, because we just couldn't get into it, though we got a B+ on the paper, so go figure.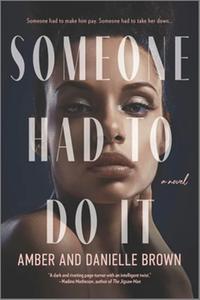 Books you're an evangelist for:
Of all the books, fiction and nonfiction, that explore the grooming of young people and rape culture, My Dark Vanessa by Kate Elizabeth Russell is beyond the best we've encountered. It's simultaneously the most disturbing and insightful book we've ever read. It is such a brilliant portrayal of the psychological dynamics of a predatory relationship, and you cannot read this book without having a searing visceral reaction.
We also are always recommending The Push by Ashley Audrain, Saving Noah by Lucinda Berry and Razorblade Tears by S.A. Cosby. And for nonfiction, we think literally every American needs to read Stamped from the Beginning by Ibram X. Kendi. A magnum opus if there ever was one.
Book you've bought for the cover:
Literally was obsessed with the gorgeous rose-gold of the cover of The Invisible Life of Addie LaRue, but we both fell in love with V.E. Schwab's dreamy writing style and ugly-sobbed at the ending. The Vanishing Half by Brit Bennett and Such a Fun Age by Kiley Reid were also both cover-buys but are a couple of our favorites.
Book you hid from your parents:
Confession: when we were 14, we were obsessed with Zane and, yeah, there was no way we were going to let our mother witness us reading The Sex Chronicles. And even though we were technically quite young to be consuming a book like that, learning about sex through the lens of a very empowered female protagonist really impacted our self-esteem in a positive way as young Black women. So it was a win-win, even though our mom probably wouldn't have approved.
Book that changed your life:
Sleeping with Strangers by Eric Jerome Dickey was the first time we'd ever read a novel where the characters are relatable and the drama is juicy, yet there is this unputdownable element because of the intercontinental crime spree the protagonist is on. It is fast-paced and incredibly sexy and has murder, guns and assassins duking it out. It was the spark that led us to writing thrillers, for sure, and still holds up to this day.
Favorite line from a book:
There's a ton of stunning lines in Raven Leilani's Luster, but this one takes the cake: "He wants me to be myself like a leopard might be herself in a city zoo. Inert, waiting to be fed. Not out in the wild, with tendon in her teeth." We promise that it's even more brilliant in the context of the scene and the overall narrative.
Five books you'll never part with:
The Sun Does Shine by Anthony Ray Hinton [with Lara Love Hardin] is the best depiction of the American justice system and how it's less about justice and more about who has more money.
Beartown by Fredrik Backman was so, so impactful. Fredrik's writing is perfection. Can't help but feel everything he writes so deeply, and it's chock-full of stunning one-liners that are ideal fodder for rereading.
Completely bought A Little Life by Hanya Yanagihara for the stunning monochrome cover to go with the aesthetics of our bookshelves, and it turned out to be the most impactful book of our entire lives.
The Push by Ashley Audrain has such compelling writing and an incredibly visceral exploration of early motherhood.
The Comfort Book by Matt Haig is something that will always come in handy and something we love to have in our home library for friends and family to borrow.
Book you most want to read again for the first time:
The One by John Marrs was one of the most exhilarating reads of all time for us. The twists just kept coming, and it would be so fun to ride that wave again.