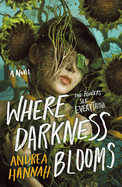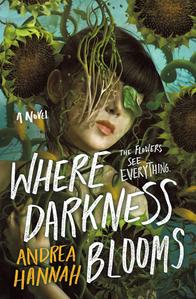 Where Darkness Blooms is an eerie, tense supernatural thriller about a Midwestern town where missing women are as much a part of its fabric as the suffocating sunflowers and windstorms that plague it.
In the strange town of Bishop, Kan., the perpetual windstorms feel like they're keeping people away from the edges of town. The surrounding fields of sunflowers are "a wall of aggressive yellow" staring at townsfolk with "empty, unreadable faces." Then there's the number of women who go missing or die every year. It is a fate accepted by the townspeople that Bishop can't satisfy "hungry, restless women with sharp edges."
Three of those sharp-edged women went missing on the same day two years ago, leaving behind four teenage daughters. Eighteen-year-old Delilah believes that if she can "keep them all in line," maybe they can escape a similar fate. Seventeen-year-old Whitney's girlfriend died six months ago, while her twin sister, Jude, is hiding a secret fling she had with Delilah's boyfriend. Then there's Bo: while the other girls are ready to move on, she's convinced there's more what to happened, and she wants answers. Lies begin to unravel at a two-years-too-late memorial, leading the girls down a path that will reveal what happened not only to their moms but to all the unfortunate women of Bishop.
Andrea Hannah begins her haunting story with Bishop's founding. Readers learn that the town's land lusted for blood to feed its parched, lifeless soil. The first male settler offers his wife's blood, but it's not enough. And so begins a long line of sacrifice. By the time the girls' moms disappear, the history of the town is lost. Hannah's decision to reveal this before the beginning of the main story sets the tone and propels the action. What follows is not rushed; instead, Hannah uses each girl's perspective to slowly unravel the mystery and its unexpected twists and turns. In doing so, she creates a sense of foreboding and distinct characters, which include the wind (which moves "deliberately, intentionally") and the sunflowers.
Throughout the story, Hannah sensitively discusses sexism, gaslighting, victim-shaming (the women were "a little too wild" or "never did follow the rules") and generational trauma while delivering an immersive, creepy mystery filled with visceral imagery. --Lana Barnes, freelance reviewer and proofreader
Shelf Talker: In this haunting, immersive supernatural thriller, four teenage girls confront the lies surrounding the mysterious disappearance of their mothers in a town where the land hungers for blood.