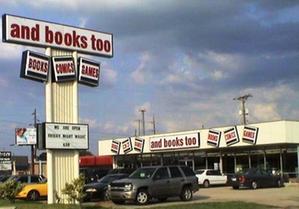 And Books Too, a bookstore, comic shop and game store that has operated in Lafayette, La., for nearly 40 years, will close once it clears out the rest of its merchandise, the Acadiana Advocate reported.
Store owner Marty Medlin has decided to retire and announced a store-wide retirement sale shortly before Christmas.
"I want to get out while I can still go do," Medlin told the Advocate. "It's been a fun ride. A lot of kids have come here who have grown up and become good citizens of the city. We've provided a safe place for kids, but it's time for the younger people to step in and run it."
Medlin and his wife opened the bookstore in May 1986, after Medlin lost his job as an accountant in the oil and gas industry. Originally located in the Winnwood Shopping Center, the store eventually moved to a space in the Centerpiece Shopping Center, which Medlin and his wife have owned since 2006. They added comic books and games to the store's inventory over the years.