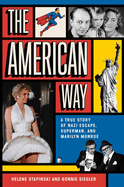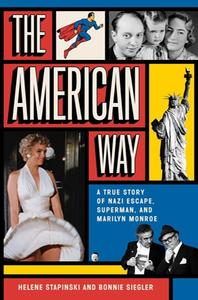 Throughout Act One of The American Way: A True Story of Nazi Escape, Superman, and Marilyn Monroe, which follows a European Jewish family trying to outrun the Nazis, readers may find themselves wondering: "Yes, but what does this have to do with Marilyn Monroe?" Coauthors Helene Stapinski and Bonnie Siegler bring it all home in Act Two of this inventively structured, ceaselessly surprising and ultimately spirits-boosting look at the long-game rewards of feats of daring and kindness.
By 1938, Jules Schulback, a Berlin furrier with a wife and a young daughter, knew it was time to leave Nazi Germany. To immigrate to the U.S., whose movies he loved, Jules would need a well-to-do American sponsor. As it happened, Jules had a cousin, Faye Sternberg, who lived in the Bronx. While Faye lacked the financial clout to sponsor Jules, she thought she knew someone who could.
Harry Donenfeld was Faye's friend and former Bronx neighbor, a printer who had made it big as the mob-connected distributor of comic books and now lived in glitzy Manhattan. At around this time, Harry was taking a chance on a character created by Jerry Siegel and Joe Shuster, a couple of young Jewish artists from Cleveland. Superman would be America's first superhero: a mighty alien from planet Krypton who, as a baby abandoned on planet Earth, was adopted by human parents and named Clark Kent. Jerry got the "Clark" from Hollywood great Clark Gable, who was in a movie with....
The American Way presents a daisy chain of stories: the lives of Superman's creators would be changed by an unwitting Clark Gable, who also, as Stapinski and Siegler reveal, unwittingly changed Jules's life, and so on. The book is both an inside glimpse at mid-century America's entertainment scene and a family history, at its center a man who believed that stories--from the community, from Hollywood, from comic books--linked the entire world. "It wasn't just a matter of coincidence," the coauthors imagine that Jules might have said. "We were all part of a vast network of interconnected narratives, so shouldn't we try and help each other to make the narrative a happy one?" Stapinski (Murder in Matera) and Siegler (Signs of Resistance), who is Jules Schulback's granddaughter and supplied the family photos and other mementos reproduced in this book, write with a zippiness and awe befitting tales of superheroism by the caped and capeless alike. --Nell Beram, author and freelance writer
Shelf Talker: This daisy chain of mid-century-set stories, which revolve around a family of Jewish immigrants to the U.S., is inventively structured, ceaselessly surprising and ultimately uplifting.