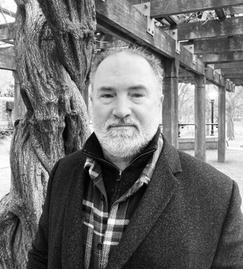 Tim Huggins
Tim Huggins, founder and former owner of Newtonville Books, Newton, Mass., and former CFO of Brookline Booksmith, Brookline, Mass., has launched a service for booksellers called "CFO on the Go," which aims to boost booksellers' financial and strategic awareness and offer the services that a CFO provides companies.
"As the dust settles on the holiday seasons and booksellers begin looking back at the past year's performance and ahead to the new year's challenges and goals, thoughtful financial analysis becomes crucial," Huggins said. "We all know that to survive today, small businesses require that key mix of passion, focus, impact, and sustainability. Most indie bookstore owners are expert at fostering some of these fundamentals. But, like entrepreneurs across any industry, few can seamlessly integrate them all.
"Whether as a part-time CFO or just an advisor for an important short-term project, I'm hoping my time and services can be tailored to clients' individual goals and budgets, freeing them up to focus their passions on the aspects of bookselling they love best," he continued. "It's my life goal to work with writers and independent bookstores, to help them better reach their missions, their visions."
Huggins emphasized that he understands many booksellers find finance and strategic planning "less compelling" than other parts of bookselling. "What I love doing, and where my skills align best, is making creative organizations--particularly indie bookstores--better through improved financial awareness and thoughtful strategic planning."
Huggins has an MBA and 25 years of experience in bookselling and small business management. He's also been a creator of event programs like Books & Brews, which featured an author reading and signing at the bookstore, followed by an after party for all at a local restaurant and bar with the first round on the bookstore, and Earfull, a performance series featuring writers and musicians who read from their works and play music at bars, restaurants and clubs.
Huggins has worked with several booksellers who offer rave reviews.
Roxanne Coady, founder and owner of RJ Julia Booksellers, Madison, Conn., praised Huggins's help with the relaunch of Just the Right Book, RJ Julia's personalized book subscription service. "Having been founded almost 15 years ago, [JTRB] needed focused attention to address technical upgrades and overall project management. Tim more than stepped to the plate and has, for the last two years, set JTRB on a sturdier path to success. His guidance and hands-on attention have greatly benefited JTRB--our operations are clearly defined, our financial structures and systems are sound, and our future is less murky with Tim's levelheaded guidance."
Nicola Orichuia, founder and owner of I AM Books, Boston, Mass., said that Huggins was "instrumental in bringing our vision for a new store to life. Thanks to Tim, we were able to adjust our plans, which in turn allowed us to obtain capital for the enterprise, put I AM Books on a clear path for hitting sales goals, and adhere to expense budgets."
And Andy Hunter, founder and CEO of Bookshop.org, commented: "When Bookshop.org took off, we had the daunting task of having to register and file sales tax in 40 different states. We brought in Tim Huggins to help us and thanks to his savvy and hard work, we got it done on time and in an organized fashion. Tim is detail oriented, financially astute and a pleasure to work with."
For more information, click here. To contact Huggins via e-mail, click here.