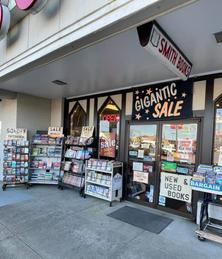 Smith Books before the accident.
A car smashed through the storefront window of Smith Discount Books, Virginia Beach, Va., last Friday, injuring two people, 13 News Now reported. According to a city police spokesperson, a teenager and an adult inside the store were hurt. Both had non-life-threatening injuries but were taken to the hospital for treatment. The driver was arrested and after being treated for minor injuries, and was charged with DUI.
The store is temporarily closed. On Monday, owner Barry Smith told 13News, "Our employee was sitting behind the counter and a car came barreling through the front door and everything. The soda cooler got knocked over [and] all the sodas went everywhere and fell on someone, and another girl got pinned up against a bookcase. We're very sad people got hurt. That's our main concern."
Smith, who was waiting to see when he could go back inside his store, added that he was unsure when he would be able to reopen the store: "It's really bad because this is when people come buy books after the holidays and they have gift cards. Our business is closed, so our revenue stream has totally stopped. Just pray for us to get back in business. That's all we really need."
Smith Discount Books posted a Facebook update over the weekend: "Due to structural damage from the incident last night, we are currently closed. We are in the process of cleaning up and will reopen soon. Thank you for all the support!"