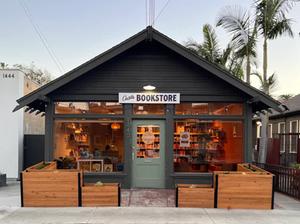 Since its opening last month in Long Beach, Calif., Casita Bookstore has been offering a diverse selection of books in Spanish and English, the Long Beach Post reported.
Store owner Antonette Franceschi-Chavez, who is also the founder of the literature nonprofit Equity Through Literacy, opened the bookstore's doors on December 4. Though the store does carry some YA books and titles for adults, about 70% of the store's inventory consists of books for children between the ages of 0 and 12.
"Long Beach has such a diverse population, so I hope that's exemplified in the store because I want everybody to feel welcome," Franceschi-Chavez told the Post. "I want to make this a staple here in Long Beach and make it an open community space."
Prior to opening Casita Bookstore, Franceschi-Chavez worked as a parent engagement coordinator at Long Beach's Main Library, and before that she was a dual-language program teacher. A lifelong reader, Franceschi-Chavez always wanted to open a bookstore of her own, but thought it would happen later, perhaps when her children got a bit older.
Last October, however, Franceschi-Chavez had recently left her job at Main Library in order to spend more time with her newborn daughter when she found a small home available on Fourth Street in the Alamitos Beach neighborhood. The house was compelling, and Franceschi-Chavez decided to pursue opening a bookstore. Less than two months later, Casita Bookstore was open for business.
"It looks like a little house... and my big focus is increasing the amount of bilingual Spanish books that are in this community," Franceschi-Chavez explained. "So Casita just made sense."