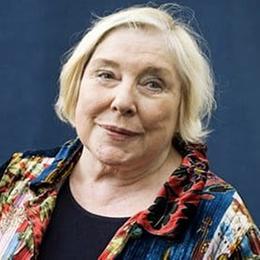 Fay Weldon
English author Fay Weldon, "who chronicled the ups and downs of British life in novels, TV dramas, plays and short fiction for more than five decades," died January 4, the Guardian reported. She was 91. In more than 30 novels, including The Life and Loves of a She-Devil, Splitting and the Booker prize-shortlisted Praxis, Weldon "charted lives shaped by class and the sexual revolution.... The sharp dialogue, scathing wit and satirical energy of her fiction were forged in the world of stage and television, where her screenwriting credits included ITV's Upstairs Downstairs and an adaptation of Pride and Prejudice for the BBC."
Weldon began her career writing scripts for radio and television, contributing to series such as ITV's Armchair Theatre and BBC's Wednesday Play. An ITV drama, The Fat Woman's Joke, would become her first novel, published in 1967. Four more novels appeared over the following decade, as well as a series of plays for stage and screen. Her sixth novel, Praxis, was published in 1978 and earned her an appearance on the Booker prize shortlist. Auto da Fay, her autobiography, was released in 2002.
Weldon's best-known novel, The Life and Loves of a She-Devil, was published in 1983. The Observer called it her "nastiest novel so far... the most mutilating kind of satire, whose only 'point' is to bring you up against the bars of your cage." The BBC adapted the book for TV in 1986, and a film version starring Meryl Streep and Roseanne Barr was released in 1989.
In the Guardian, Claire Armistead wrote that Weldon "was to an unusual extent the creation of her own extravagant imagination. A polemicist whose opinions shaped themselves around the plot of her latest book, a pragmatist who giggled her way through every sentence, she was mischievous and evasive, yet wilfully and wittily life-affirming. 'I long for a day of judgment when the plot lines of our lives will be neatly tied, and all puzzles explained, and the meaning of events made clear,' she wrote in her rackety 2002 autobiography, Auto da Fay. 'We take to fiction, I suppose, because no such thing is going to happen, and at least on the printed page we can observe beginnings, middles and ends and can find where morality resides.' "
The Death of a She-Devil, a follow-up to her 1983 novel, was published by Head of Zeus in 2017, the Bookseller noted. Her editor, Madeleine O'Shea, said: "I started working on Fay's books as an assistant when I first joined Head of Zeus and later became her editor. Brilliantly clever and opinionated, Fay was full of energy, wisdom and mischief. She made me laugh, made me think and taught me a lot. To read her books is to hear her voice--varied, quick-witted and always entertaining."
Head of Zeus CEO Nicolas Cheetham added: "Fay was like family. One of the first authors to join Anthony and I at Quercus, Corvus and then Head of Zeus, her books--historical fiction, ghost stories, dystopian SF--launched our lists."
The Booker Prize tweeted: "We are saddened to hear that the brilliant Fay Weldon has died. As well as being shortlisted for the Booker Prize in 1979, she was a judge in 1983 and delivered one of the most memorable speeches in Booker history. Our thoughts are with her family and friends."
Weldon's death was confirmed by her son Dan Weldon, who did not specify a cause but said she had experienced strokes and had some health problems, the New York Times noted, adding that while she was too weak to hold a pen, she was still writing in her head. "'She was thinking about writing poetry," he said. "She was a writer to the very end."
Author Jenny Colgan, writing in the Guardian, recalled: "Fay was noisy in an era when women were expected to be quiet. She used her voice and took up space; she said what she felt, she brought energy and fun. And she was, as her book festival audiences could doubtless confirm, that very best and most attractive type of person: someone who is utterly, fearlessly and for ever true to themselves, to hell with the consequences. We will miss her."