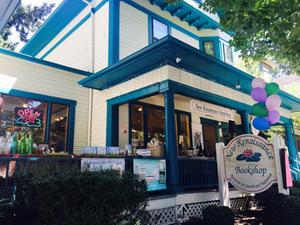 New Renaissance Bookshop, Portland, Ore., had expected to start the year off by closing permanently, but the store has been given a lease on life after a developer pulled out of a deal that would have included tearing down New Renaissance's building. The bookstore said it was "thrilled" that it has signed a one-year lease with its landlord, Legacy Good Samaritan Hospital. New Renaissance added that "the hospital's real estate team believes that it will be quite some time before they will locate another buyer. This location may be our home for at least two years and maybe, up to five years."
The store said that it was "delighted to be here for our loving community.... Thank you so much to everyone who helped, cared, prayed, and worked with us through this challenging year. We wouldn't be here without the love and support of you all."
The store had announced this past summer that it would have to close because its block of Victorian houses would be demolished for a new development. Its old lease ran only to the end of this month.
Besides books, the metaphysical store offers a range of products and services, including candles, crystals, puzzles, games, cards, clothing, jewelry, wind chimes, and reader and practitioner consultations. The store was founded in 1988 and is still owned by the same family, including Amrita (Darlene Potter) and her daughter, Claire Areesa, manager and events coordinator.