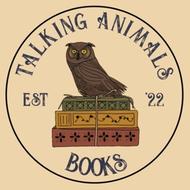 Talking Animals Books, a new and used bookstore with titles for all ages, is opening soon in downtown Grapevine, Tex., NBC-DFW reported.
Co-owners Katy Lemieux and Valerie Walizadeh said they're aiming for a February 1 opening date for their store, which is located at 103 W. Worth Street. The shop will have comfortable reading spots and a custom-designed play area for children. In addition to books, the store will carry a variety of curated gift items, and event plans include family programming as well as theatrical and literary events.
Lemieux explained that she and her husband are very involved in theater and the arts, and she had always talked about opening a theater company of her own. As she thought more about it and wondered if now was the right time to open one, she realized she wanted to do something that was more than a theater company.
Around the same time she visited friends in Brooklyn, N.Y., where there was "a bookstore on every corner," and found herself wondering why that wasn't the case in Grapevine. During a week of brainstorming, "the whole thing came together," and Lemieux knew she wanted to open a bookstore that had one foot in the theater and arts world.
Not long afterward Lemieux met Walizadeh, who knew "the community was missing this" and felt "called" to what Lemieux was doing. Initially she wasn't going to reach out, but after some encouragement she did, and "the rest is history."
Last fall Lemieux launched a Kickstarter campaign to help her and Walizadeh open the bookstore. They raised more than $54,000 from 345 backers. Contributor rewards included things like discounts in-store and online, reserved seating for future events and swag bags.
Lemieux noted that because of the store's name, a lot of people have assumed the store will be focused on children's books. The inventory, however, will include something for everyone, and she said she chose the name because she loves animals and "I'm just an adult child."