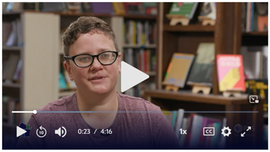 Wisconsin Life offers a video profile of Gretchen Treu, co-owner since 2018 of A Room of One's Own, Madison, Wis. In the video, Treu talks about their background growing up in rural Wisconsin, their lifelong penchant for recommending books to people, hanging out at A Room of One's Own while in high school, working as a bookseller there and then becoming an owner.
Treu discussed A Room of One's Own's move in 2021, which was "a lot of work," but gave the store "the opportunity to really make something that's ours from the beginning." They noted that "historically this is the safe space for women specifically, and our recent swap over to being a trans-inclusive space actually upset some people. I try to have respect for the store's history and I try to make space for people who remember it in a certain way while still holding firm that this is a store that has always tried to be progressive and you can't be progressive if you're not progressing."
Treu also talked about the power of stories and of books, saying, "Being a critical reader and being a reader and a person in the book world means recognizing that stories have power, stories have power to influence and affect people. What does a book do in your life, what does it change about you and what can it change about the world, I think, are questions I grapple with all the time because I do believe in the power of story and the power of books to change the world."