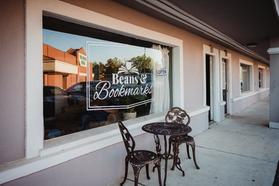 Beans and Bookmarks, Spartanburg, S.C., will be closing January 28., with hopes of eventually reopening. The business, which sells new and used books and operates a coffee shop serving literary-themed drinks, was launched last April by Callie Yarbrough and her parents, Carrie and Dereck Yarbrough.
Announcing the impending closure to customers on Facebook, the owners said: "We would like to thank you for all of your support in the last year. You have stood by us and helped us as we navigated the ins and outs of running a small business with just the three of us. We have gotten so lucky to get to know each and every one of you.... We have loved every minute of being open and wish nothing but the best for all of you."
The Yarbroughs did offer some hope for the future however, noting: "That being said, Beans and Bookmarks will not turn into an unforgotten dream. We plan to reopen in the distant future, but at this time we do not have a date. We WILL keep our Mobile Coffee Trailer open for events so don't think you can get rid of us that easily! We got so lucky to meet all of you and want to still have the opportunity to serve y'all the best we can. We are so proud of what we have accomplished since opening, and we will never regret being here for the community to enjoy.... When you see us again, we will be bigger and better than ever!"