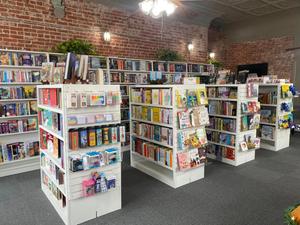 Enchanted Children's Bookstore, which opened last month at 1023 W. Main St., Collinsville, Okla., "started as a dream to put a book in every child's hand and that dream is now a reality for retired Green Country teacher Karen Barros," KOTV reported. Barros taught journalism, English and literature in Owasso for nearly 30 years.
"My vision is to bring children to books," she said, adding that her love for reading led her to become a teacher and she wanted to continue that passion in another direction. "Whether they are little bitty or older, there's always something for someone. There's no such a thing as a non-reader, everybody reads, whether it's a TV guide or a restaurant menu. There's always something for everybody and I want to find that."
The shop is "themed like a castle inside a fairy tale," KOTV noted. It features features titles ranging from baby to YA, as well as a small selection of adult general fiction, mystery/suspense and romance.
"It's just wonderful because I believe there's magic in books," Barros added: "When you're stuck at home, it can take you somewhere else and I love to see that in children."