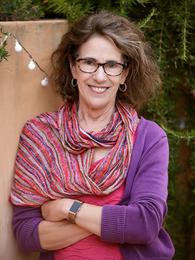 Cai Emmons
Cai Emmons, novelist, playwright and teacher, died on January 2. She was 71 and had ALS, a subject that she wrote about "with eloquence and honesty," after her diagnosis in February 2021, the Oregonian wrote.
Emmons's six novels were His Mother's Son (Harcourt), which won an Oregon Book Award (the Ken Kesey Award) for fiction; Weather Woman (Red Hen Press), which won a Nautilus Book Award, and a sequel called Sinking Islands (Red Hen Press), winner of a May Sarton Award; The Stylist (HarperCollins); and two titles that appeared in September 2022: Unleashed (Dutton) and Livid (Red Hen Press). Her story collection, Vanishing, won the Leapfrog Fiction Contest. Her short fiction and essays have appeared in a range of newspapers and magazines. For the publication of Sinking Islands in 2021, several authors rallied to help with promotion and readings, as Emmons was having difficulty speaking.
Earlier Emmons had written plays, including Mergatroid and When Petulia Comes, which were staged in New York, and screenplays and teleplays, some for CBS's The Trials of Rosie O'Neill.
She taught at several colleges and universities, including the University of Southern California and the University of Oregon, where she taught fiction and screenwriting from 2002-2018. She received fellowships at the Albee Foundation, Ucross Foundation, Virginia Center for the Creative Arts, Playa, Caldera and Moulin à Nef in France.
The family wrote: "Emmons's ever-changing and broad writing bears testimony to a profound love for people and human connection, an acute attention to the internal lives of women, a constant curiosity about the world around her, and hope in our ability as people to set the world to rights."
In a "farewell" letter to friends and readers on January 1, Emmons wrote that she was "planning to depart from life as I've known it through death with dignity" the following day. "I have had a rewarding life and I love everyone who has been a part of it. Remember me with joy."
She noted that "the timing of my demise is odd because my career is currently in an upswing. Since 2018 I have published five books, and I am completing a new one now. There is interest in turning my blog posts into a book; a Hollywood producer is interested in optioning three of my books; and a documentary film is being made about me. It is not a bad way to go out, though I regret that I won't live to see these efforts fully realized."
Emmons's family asked that people "buy her books from independent bookstores and donate to the ALS Association and the research efforts of Dr. P. Hande Ozdinler at Northwestern University."