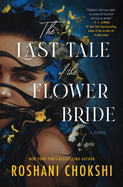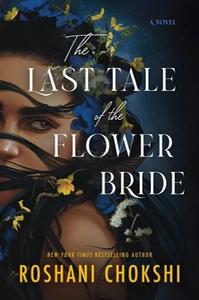 The Last Tale of the Flower Bride, Roshani Chokshi's first adult novel, is a dual-timeline gothic dripping with fairytale magic and twisted love. In the present, a man described only as the Bridegroom falls for Indigo, a mysterious woman with many secrets. In the past, the young Indigo befriends a girl named Azure, drawing her into her web as the two girls grow into womanhood. Indigo is a darkly charismatic character, skilled in the arts of manipulation and control. She makes Azure and the Bridegroom special by the closeness she allows them, even if she never truly lets them in. She, like Eros with Psyche, makes her new husband swear never to look at her or try to discover her secrets. Once they travel to Indigo's childhood home, the House of Dreams, he begins seeing a brother he never had--and the urge to pull back the veil grows irresistible.
Playing to classic gothic themes, Chokshi (Once More Upon a Time; The Gilded Wolves) constructs an opulent manor falling to ruin, complete with an aunt--Indigo's former guardian--haunted by ghosts unseen. The story is initially bewildering to readers, almost opaque in its structure and mystery. Chokshi wants readers as mystified as the Bridegroom and as entranced as Azure while she embraces the full range of darkness common in gothic fiction. Azure's mother's boyfriend lies in wait, and Indigo's home becomes a refuge to a girl who wants desperately to become invisible. Magical realism in the form of a portal to Faerie, the Otherworld, provides a promised escape for Azure and a lure for Indigo to dangle in front of her. Indigo is as enticing as she is cruel, and she capitalizes on the Bridegroom's and Azure's childhood traumas to exert control disguised as love.
Chokshi writes Indigo as fairytale herself: glittering, terrible and full of false promise. "In the end," she writes, "a fairytale is nothing more than a sense of hope. Hope lures and tricks. It tempts with shining thrones, exquisite nectars, and loving arms. It whispers to us that we are extraordinary. Exempt. Thus lured, we follow its path." The Last Tale of the Flower Bride is as enthralling as Indigo: full of mystery and pain with enough flashes of light to enrapture and ensnare. Beautiful prose, complicated characters and terrible discoveries will captivate readers until the chilling end. --Suzanne Krohn, librarian and freelance reviewer
Shelf Talker: Roshani Chokshi adeptly combines classic gothic and fairytale themes in The Last Tale of the Flower Bride, a captivating novel of twisted love, betrayal and magic.