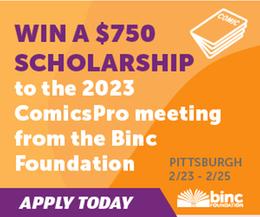 The Book Industry Charitable Foundation is offering two $750 scholarships to comic book store owners and their employees to attend the ComicsPro Industry Meeting in Pittsburgh, Pa., scheduled for February 23-25. The funds may be used for travel, replacement wages, lodging and meals. Scholarship guidelines and the application form are available here. The deadline to apply is January 21 at 5 p.m. Eastern.
"We really appreciate Binc providing two scholarships for the Comic Industry Meeting!" said Marco Davanzo, executive director of ComicsPRO. "These scholarships will help those that might not have gotten to go to the meeting. Binc is a class act. They are there, day in and day out, helping employees and owners of comic book stores with unforeseen emergencies. The folks at Binc are the unsung heroes of the comic industry."
Binc executive director Pam French commented: "We are proud to continue our support for educational opportunities for the comics community with this new professional development scholarship for two individuals to attend the ComicsPro Industry Meeting in Pittsburgh in February. Through this scholarship, more retailers will have the opportunity to gain valuable connections with their peers and colleagues."