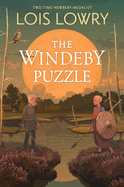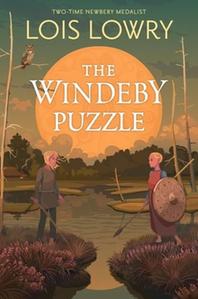 In her moving and engrossing The Windeby Puzzle, two-time Newbery medalist Lois Lowry (Number the Stars; The Giver) imagines two possible lives for the Iron Age youth whose body was discovered in a peat bog in 1952.
When Lowry learned about the 2,000-year-old remains found on an estate called Windeby in northern Germany, her imagination was sparked. She writes, "Each of us has a story. I do, you do, my mailman does; so does the frail elderly neighbor, the woman who waits on me at the supermarket, and the boy who just rode past me on a bicycle." Lowry longed to know what had happened to this young person whose life was cut short. Lacking that knowledge, she decided to write the story herself--and then an alternate story when more historical details came to light. Exploring scientific and historic theories, archeological evidence, facts about peat bogs and accounts of first century CE Germanic tribes led Lowry to fabricate full, though brief, lives for a girl named Estrild and a boy named Varick.
What makes The Windeby Puzzle unusual is its structure. Parts One, Three and Five are labeled simply "History." Sandwiched between these absorbing and informative pieces of historical context Lowry inserts creative inventions: Estrild's Story (Part Two) and Varick's Story (Part Four). The nonfiction sections break the fourth wall of the fiction sections, as when Lowry writes in Part Three, "I confess. It was excruciating for me to write the final paragraphs of Estoril's story. Yet it had been clear, from the beginning, from the body found in the bog, how the story would end for her...." The author connects past to present by giving a life to the long-lifeless youth. To her, this body was not an archeological artifact--it was the vessel for a real person who lived a life that we will never fully know. Thanks to Lowry, though, we can now imagine a girl who pushed back against gender roles--with deadly consequences--and a boy whose physical limitations and status as an orphan doomed him to a short, difficult life.
Each of the five sections begins with a brief illustrated story by Jonathan Stroh. The art features a majestic eagle-owl flying over the contemporary archeological dig as well as the historical bog. Did eagle-owls exist 2,000 years ago? No one knows. "But," Lowry writes, "I decided, in writing Varick's story, that it would." This small flight of fancy establishes a link between ancient times and the present, allowing readers visually to connect the "History" with Lowry's affecting "Story." --Emilie Coulter, freelance writer and editor
Shelf Talker: After learning about an ancient body found in a peat bog, Lois Lowry imagines the life that might have been in this captivating blend of fiction, archeology and bog biology.